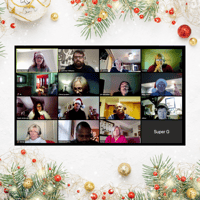 Green Leads has a complete virtual workforce, which we implemented after a flood – years before Covid – lead gen experts need disaster recovery plans. 2020 has been a crazy year for sure, but there is no need to not celebrate and bring unity to your sales development/business development team. We held a happy hour celebration yesterday with our traditional "Two truths and a lie" game. This is always fun and causes us all to learn some fun facts about each other while laughing at the crazy stories. Finding out that always-innocent co-founder Linda Flanagan was kicked out of a Cyndi Lauper concert and was also at the Atlanta Olympic bombing brings unity to the team.
From Green Leads to you all…Happy Holidays, Merry Christmas, and please…a legendary New Year!
ps. Linda also reminded me of a story that was pre-my tenure. She recalled Green Leads' first Christmas Party with just 10 attendees. An upscale dinner with a two truths and a lie as well as a big bill and a big mistake. The restaurant had tacked on an 18% tip and when Linda's husband and co-founder, Mike paid the bill, he ended up adding another 20% — they were both wondering why the bartenders and servers were so friendly with smiles and hugs!