HQL Leads
A Highly Qualified Lead is a lead that fulfills the service level agreement (SLA) between marketing and sales – a lead that meets: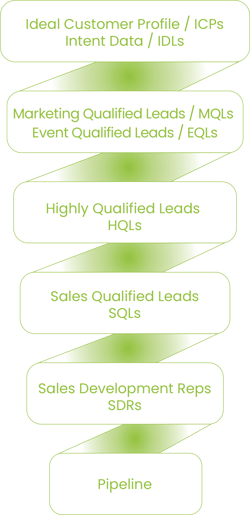 The ICP Persona requirements, and

Has shown some level of interest in learning more about your company and offerings, and

Has answered some basic qualifying questions, and

Expressed an interest in talking to one of your sales executives.
HQL's are generated in the same way as MQLs, using one or more of the following techniques:
Content syndication

Outbound content promotion by phone or email

Outbound Sales Development

Inbound marketing

Website chat

Event Leads
Green Leads leverages all of the above techniques to generate HQLs. We then ask 3-5 qualifying questions typically around installed base, active initiatives, business issues to solve, or urgency to find a solution.
Our data team then performs the following Q/A to the lead:
HQLs are ideal for feeding an internal sales development team, and an economical alternative to appointment setting (SQLs) or account based targeting (ABT).