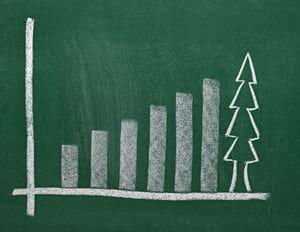 As regular as Halloween and football, this time of year Green Leads usually hears the following questions from both new and existing clients. "Why should we do appointment setting or lead generation during the holiday months? Plus it's Q4, who has time for introductory appointments anyway?"
Here are some points to ponder and they are relevant to all marketing pipeline generation programs. The general best practice is to maintain momentum and take advantage of the time of year, do not to shy away from it. Play offense when everyone else is in the huddle. Even a year with a pandemic...businesses are still operating and trying to focus on pipeline.
We'll get to it in Q1: Why wait? Q4 is a great time to lay the groundwork for next year's sales activity, never mind the possibility that you may find a deal in the rough that wants to close before the end of the year. Should sales momentum ever be paused?
Prospects aren't available during the holidays: Prospects aren't traveling. They are working and planning for next year. They are thinking about new ideas. It's a great time to introduce your company. The holiday months are GREAT for cold calling. Many senior level executives are actually at their desks instead of on airplanes and at meetings.
My sales team is too busy in December: No sales team is ever too busy to take on more new prospects. Show me a sales guy that says no to an introduction in December \and I'll show you his resume next year. Introductory appointments are a change of pace during the hectic end of year for most sales executives. Take a couple of hours for a webex or even a day out of the office to meet that elusive target executive you have been wanting to see.
This time of year it's all about the bottom line: The only response to that comment is that if it weren't for the Top Line, there wouldn't be a Bottom Line. Don't let the bean counters get in the way of a good marketing program. Prepare ROI studies, sell your programs internally, and get full year commitments to your budgets. Unless it is about pure survival, don't let panicky Q4 finance teams freeze your programs.
Don't let up on your demand generation/pipeline generation activities just because it is the end of the year. Use it to your advantage. Go into offensive mode. Market with Courage!