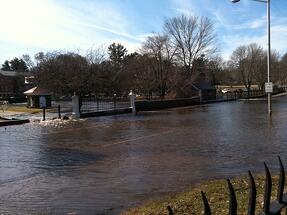 View of the Shawsheen River at Rt 133 from Green Leads' parking lot
Those of you living in New England know that the past four days have been brutal, with constant rain, the White Mountains melting and all of it heading downhill towards towns like Andover. The Shawsheen River pours right through Andover into the Merrimack, which backs up with each high tide. Combined, the rains, the melt and the tides have caused flooding all over the area.
In Green Leads' case, the Shawsheen River swelled over its banks into our parking lot, seeping through the sandbags, and you can hear the rush of water in the bottom of the elevator shaft.
Needless to say, late yesterday we raised the disaster plan flag and packed all portable computers, headsets and one of the backup drives out of the building. Thanks to our virtual hybrid model, we were able to get all but one person up and running today. In fact, the appointment setting run rate for the morning was 10% higher than yesterday. A flood of leads!
A similar situation occurred last year with the ice storms and power outages in New Hampshire where one of the other lead gen firms went down completely for three days. In our business, time is money. For our sales rep clients, lost production from their lead gen partners means lost opportunity.
Do you have a disaster recovery plan for your Inside Sales or Lead Gen team?
If your building were to lose power for a week, or the floods poured into the basement, could you keep generating pipeline?
What about a business disaster? Could your demand gen efforts survive negative press events (think of Toyota Prius).
Parting shot ... Green Leads' mascot, Louie, taking a sip out of the parking lot.