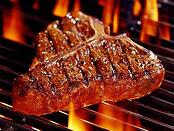 We were dining at my favorite local restaurant for my oversized salad (mandated by my wife and doctor), when I observed each of the servers checking in with their customers within 5 minutes of serving their entrées, "How's your steak cooked?", "Is the salmon to your liking?"
How often do demand gen experts ask their sales team, "How are your leads?", "Are your appointments meeting your expectations?" Do you ask for feedback in a timely manner? Do you take the dish back if it's not to sales' liking?
How often are your leads under-cooked?
Set your lead gen standards and expectations between sales and marketing, and then formalize them into a Service Level Agreement (SLA). This formal agreement documenting what makes a good lead and what constitutes qualified, or introductory, etc. will keep you all in line. Set goals for your sales team too. They should meet your SLA requirements.
Are leads being followed up on in a timely manner?
Is pipeline activity accurately tracked in your CRM and the lead source maintained?
Are conversion events being documented properly?
Are lead rejections being used to refine the process?
Me, back to my salad...