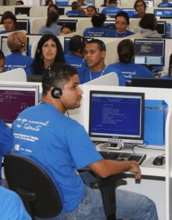 When it comes down to it, ultimately the one thing you want from your B2B appointment setting vendor is that they've shown prior success. You want to partner with a vendor who can sit down with you and, literally, "show you the money." Saying that the appointments that your team has set has led to "x" number of dollars in revenue is one thing, right? It's a-whole-nother thing to prove it. But, let's say that you've got some great vendors in mind and, comparatively speaking, they're neck and neck in terms of being chosen as your partner. Here are four additional things to consider when choosing to work with a B2B appointment setting team:
1. Make sure they can give you both quality and quantity - The only way you're going to figure this out is by talking to their clients. It's great if you choose a vendor who's going to be able to set meetings for you by the dozens. It's even better if those appointments are quality. You've got a hungry sales team, sure, but that doesn't mean that they have time to go on appointments that are all fluff and no stuff. Conversely, that same hungry sales team needs more than just a few quality appointments to get the needle on that pipeline gauge screaming to the right. You can get both, you're just going to have to take some time to figure out who can offer you that.
2. Make sure they let you shadow their reps' calls - You know how they say the proof is in the pudding? If you're talking with vendors, and one of them will not let you sit in on calls that their reps make, take them off of your list. I don't care how high they are on the list, take them off. There shouldn't be anything to hide here. When you get the opportunity to sit in on calls, make the most of it. Don't just listen to the rep and what they say about the product they're pitching, but watch them when they get thrown a curveball. Watch them when a prospect hangs up on them. Watch them when they get blown off the line. You want to see how the rep responds to objections and how they handle rejection because if they call for you, they're going to get that all day long. Good reps, and great B2B appointment setting teams, know how to rally back from that and attack the phones without fear.
3. Make sure they let you have access to your BDR - Once you signed the agreement and a rep has been assigned to your account, you'll want to make sure you have access to that rep. You want to talk with that rep and determine whether or not you think they can make calls on your behalf. Remember, this person represents you at the screaming edge of sales and you want to have confidence in that person. If the vendor you're considering partnering with won't allow that, you really should rethink their viability.
4. Make sure they aren't afraid of cold calling - Seems like a no-brainer right? You'd be surprised at how many people out there have become reliant on warm leads, or trade show attendees in terms of putting their outbound marketing lists together. You want to pick a vendor that has been historically successful at cold calling. It's not dead, it never will be, and it's not going away any time soon. Talk with your potential partner about their philosophies about cold calling and their success levels at it.
There are other things you should think about it when selecting a B2B appointment vendor, but I'd like to hear from you. When hiring a B2B appointment setting team, make sure they...what?