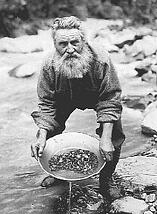 Dialing the phone all day is a task. I have one guy who calls it panning for gold. He'll say he just swished the phone 20 times, found 4 shiny objects and none were gold. Then an hour later he'll yell "Eureka!" when he does successfully set an appointment.
I presented these 5 Outbound Calling Best Practices at a Boston Chapter meeting of AA-ISP (American Association of Inside Sales Professionals), and they are still relevant today (with an update on the tech tools).
These 5 points may get more Eureka's out of your outbound marketing efforts:
List Hygiene - Keep lists clean and ready at all times for prime calling. Track things like Time Zone, Direct Dials, Admin Names, Dialing Tips (press 0 for the operator), etc. Validate lists prior to dialing. Remove bad contacts, or research and replace them. Don't dial until the list can be worked top-to-bottom in one sweep without a struggle.
Functional Tools - Fill the toolbox with tools, and know how to use them: LinkedIn, Google Alerts and Google Search, Zoominfo, others... Use them to work smarter. If you find they get in the way when you are in power-dial mode, clean the desktop (next tip).
Clean Desktop - When it's prime time to dial, cluttered desktops and browsers can bring things to a grinding halt: Slack, Email, Browser Windows, etc. (that means Facebook and ESPN too). Close everything that is not pertinent to dialing.
Don't Dial - Still dialing with fingers on a number pad? Don't. Get a click-to-dial, power-dialer or predictive dialer. Or get on steroids with ConnectAndSell. The productivity increases are phenomenal.
Prime Time - Don't be power dialing at 10:20 am. This is the most common time of day for prospects to be in a meeting. They are more likely to be at their desks and willing to talk in the early morning, at the top of the hour (from 10 minutes to the hour until 5 minutes after, they are between meetings), at lunch, in the late afternoon, in the early evening, on Monday holidays. Check out the article I wrote, Take 3 Hour Lunches, which discusses the day in detail and backs it up with data.
BONUS: Working From Home - Change your style to be a bit more aggressive since everyone else is working from home. They could be easier to reach or impossible. Move on if they are impossible. Always research the prospect on LinkedIn as most calls today start with personal banter. Know where they are from – "How's the Covid situation in the Bay Area?"
Just the tip of the iceberg here. What outbound calling tips can you offer? If they are tip-worthy, I'll add them to the growing list of lead gen tips.