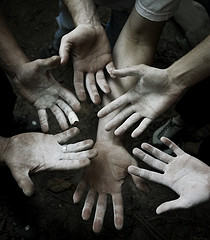 You'd think that in today's economy, a steady paycheck would be enough motivation to get the best out of people, right? Not always the case, nor should it be. Part of any manager's role is to make the people around them better. Whether it's mentoring someone to take over your role when you ascend the corporate ladder or taking a rep with just enough potential under your wing, ultimately, the job of a manager is to improve his or her team. The Sales Manager is always looking for better performance from a team, and in order to get that, you've got to give a little. Here are four things you, as a Sales Manager, need to give your team if you want to get more production out of them:
1. Give them goals that aren't impossible to reach - You remember what it felt like at 12 years old when you realized that "dunking" a basketball was an offensive point scoring option, yet you couldn't do it? That's what having impossible sales goals are like. According to HubSpot, A common rule of thumb is that 80% of your sales team should be able to meet their quota most of the time. If that's not the case, consider that your sales quota might not be realistic. If we have reps that aren't hitting their current goals, and management is continually raising them, at some point something has to give. Putting goals that make our reps stretch, not snap, is one way Sales Manager can motivate their teams. They'll feel supported, and a supported rep is a productive rep.
2. Give them constructive criticism - There's a difference between criticism and constructive criticism. If you're a sales manager and you want to motivate your team, make sure that when you're correcting behavior or when you're giving feedback, you do so out of good intentions. All too often people, who are not skilled at giving constructive criticism, do more damage than good. You don't want to lose sales reps that may have great potential because they aren't there now, and you've just torn them a new one because of x, y, and z. Give feedback constructively so that reps can learn, move on, and produce more. Start with something they're doing right, what they're lacking or where they need improvement and something else that they do right, like a criticism sandwich. Believe me, it works!
3. Give them opportunities to improve their skills - Whether it's training or seminars, or bringing speakers to them, if you give your sales reps a chance to improve their skills, they're going to be more motivated. On top of that, if you can put them in front of someone they respect, that's even better. Again, you're giving something to get something. You're giving your team valuable insight and a chance to hone their craft, and from that you're going to gain more effective sales reps. This is an area that many sales managers can improve upon. Even if all you do is put together a lunch-and-learn series, do something for your team in terms of skills development.
4. Give them SPIFF's they're excited about - Remember, not every one of your reps is motivated by money. Sure, we all need it, but when it comes to a SPIFF, sometimes it's good to make the prizes different. Whether it's time off, a trip, or a Nintendo Wii, put the effort in to figure out what it is that gets your reps excited. If you can dial in to what your reps hold dear, and then put that in front of them on top of their commission, the team is going to have fun and perform.
What are some ways that you keep your teams motivated?
Photo Credit: Brother O'Mara via Flickr