Guest post by Paul Simon, Sharper Content, @paulcontentman
We all form instant impressions when meeting someone new. Guess what? The same thing happens when we read something from someone we don't know - and the proliferation of social media puts an awful of "new" people in front of us.
As Michael Damphousse says, "Good content creates value. Value creates trust. And, yes, trust creates leads."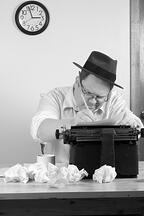 On the Internet, it's all about content, whether you have a product to sell, service to offer or leads to pursue. The best content is clear, concise and compelling, creating a bond and a relationship with the reader. Can poor writing, misspellings and grammatical errors interfere? You betcha.
A few days ago someone in a sales group on LinkedIn posed this question: "Love reading and participating in this group, but I could not help noticing all the blatant spelling errors in our posts. Do you think it reflects negatively on our attention to detail and professionalism not to re-read our posts before we hit the send button? "
Intriguing responses followed, some dismissing an occasional error in a group comment as inconsequential and others characterizing them as a general lack of professionalism. Here are a few of my favorite comments:
"Numerous mistakes indicate a lack of attention to detail. If I am thinking of hiring someone to take care of my business, I want someone who is brilliant in their field AND cares about the details..."
"If one person, someone who is important to you, forms a negative image of you because of something you've written, doesn't it make sense to be more mindful? I would hate to think that I was shut out of an opportunity because I failed to take a few extra minutes to ensure that my spelling and grammar were up to snuff."
As someone who makes a living writing and editing other people's copy, I've often wondered about the same thing when I see a lot of errors. I've made my share of typos in rushing out an email here and there, but it does seem that a business communication rife with errors really gets you off on the wrong foot.
Can you afford to take a chance? Are your content marketing efforts going to impact demand gen? You owe it to yourself to pay attention.