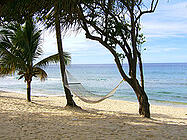 I started penning this piece about summer last week when AG Salesworks published a great article touching on some of the tactical issues of lead gen in the summer. It got me thinking that there must be some research to support a fact Green Leads is confident about: rather than slowing during the summer, lead generation activities actually heat up.
For the most part, it's popular opinion that it's harder to sell during the summer. It makes some sense, right? We tend to think of this as a lazy season, one filled with family barbecues, homemade iced tea and hours spent lounging in a hammock.

Sounds good? Fewer people working, right?

That's not necessarily the case. According to Gretchen Weber, a freelance writer for workforce.com, people are taking less time off. Regardless of the amount of time off we're given, or earn, Americans are using less of it. We may think that because summer is so low-key it's a good time for us to regroup from the rush of Q1 and to gear up for a big year-end. Not so, my friends. The implication for those of us in the B2B lead generation business is crystal clear: DO NOT SLOW DOWN.

Here are three reasons why you should not slow down your demand generation efforts this (or any) summer:
People are more likely in the office

- Just as the article from Weber pointed out, people are using less and less of their time off. Use that knowledge to engage in your demand gen efforts with great enthusiasm. Because we're utilizing less of our vacation time, there is a greater likelihood that we're going to catch people at their desks, whether we're emailing them or calling them. Don't assume that they're not there; you know what your middle school teacher taught you about "assuming," right? If our prospects are in the office more, so we should be.

Schedules are less hectic

- Though the summer typically offers no relief from the heat, it does tend to free up people's schedules. For us, this means that people are more likely to be responsive to appointment setting. That brief break from a busy schedule affords us the opportunity to schedule a time to talk with decision makers and influencers. If we're really using fewer vacation days, it stands to reason that we're not all too comfortable with an "open" calendar. Use that to your advantage and get yourself time in front of your top prospects.

Five years of data proving otherwise

- When all else fails to convert the non-believers, pull out data. At Green Leads, we've got five years' worth of data that proves to us that the summer months, specifically July and August, are better than September for setting appointments for our clients. Yet every year, clients want to slow down for the summer and turn back on in September. It's counterintuitive, but the summer is prime time. Lead gen is about pipeline too, and working hard during the summer sets up the fall for success as well.
What do you think? Is summer a time for relaxing or maximizing your Demand Gen efforts?
Photo Credit: *Micky via Flickr