There were some great B2B Demand Gen articles posted this week, and here are the handful that stood out for the Smashmouth crowd:
Old Spice: The Man Your Content Could Smell Like - The big news this week was the Old Spice Man answering people's questions and Twitter updates with personalized responses. The originality of this type of content marketing is refreshing.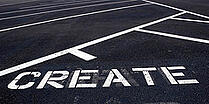 "Not too long ago Old Spice was a brand that was largely forgotten or something that was worn by your father. This weekend, watching the latest commercial (embedded below), my boyfriend asked me if he should switch over to Old Spice. The momentum Old Spice is creating goes beyond just 'silly Web videos'. They're using remarkable content to capture brand awareness, eyes, and in the end, sales."
To read more about this, check out SEO/Blogging/Twitter guru Lisa Barone of internet marketing company Outspoken Media.
Create Your Own Content Category - Joe Pulizzi, marketing strategist over at Junta42, has a great article on his site about owning your own "keywords."

"If you are talking about the same concepts and content as your competitors, what value are you adding to the conversation? Are you truly providing anything that will differentiate you from your competitors, over the thousands of other messages out there your customers are possibly engaging with?"
For Those About to Rock...Show Up First - Paul Castain, sales trainer and sales blogger at Paul Castain's Sales Playbook, wrote a great article that shares 13 tips on how effective sales people can "show up" and get found, all while weaving Slash and George Lopez into the mix.
"People like Slash understand that they need to be seen. They also understand that you can't be seen if you don't show up."
There were a lot of great blog articles this week surrounding B2B sales and marketing - which one got you thinking? What did we miss?
*Photo Credit: suttonhoo via Flickr