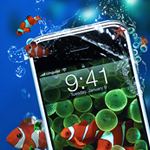 Not sure I'm going to pick up the new iPhone just yet. I'm hearing about issues with the antenna, but I'm sure I'll have to make a decision when one of my daughters drops her phone into the pool this summer and I need to sacrifice my current iPhone as a replacement. It's been a tried-and-true pattern the past 3 summers.
The iPhone 4 brings Apple customers a nicely improved design and several new features: the ability to make video phone calls, to record (and edit!) HD videos and true multi-tasking, just to name a few. What this means to me (and you) is its connection to Sales 2.0.
It's all about the evolution and use of technology -- I feel as if Apple values prospects and customers and wants to bring them value. The nature of technology is that it has to evolve, and the technology we have today is astounding. The cool part is that it's only getting better!
Sales 2.0 is all about evolution as well. It's about changing the way sales and marketing do our jobs and adapting. Sales 2.0 means that we have to evolve.
Here are three ways we can keep that evolution going:
Improve our prospect's interactions with us

- These interactions make or break the sales process. Got a poorly designed website? You and I both know that if you do, your prospects aren't coming back. Got a content-rich, informative website? Chances are they'll keep coming back even after they purchase. Is your marketing value embedded within the content prospects see as valuable? Does the sales team have the tools and information it takes to make prospects feel they are gaining value and in control of the buying cycle? Prospects want what prospects want, not always what we want.

Better qualify MQL's

- We've evolved how we bring value to prospects; now we've got to do a better job at qualifying them as MQL's (marketing qualified leads). Evolve the Quality vs. Quantity. Apple doesn't market the new iPhone to kids and teens in hopes that they will be prospects walking in to talk to an Apple Genius. They market to adult users who can afford the premium phone/service. Salespeople want the same kind of leads. Whether you do this through appointment setting, teleprospecting or lead scoring, make your sales reps want to thank you for every lead.

Accelerate word of mouth marketing (WOM)

- How many of you bought iPhones because someone let you hold it? Testimonials and referrals (word-of-mouth marketing) is one of the best -- if not the greatest -- source of new prospects for most companies. Is this Sales 2.0? Optimizing it and helping sales and marketing teams take advantage of it certainly is. Create tools, buzz and reasons for customers to bring you prospects.
Have you bought an iPhone 4? What do you think of the changes?
(Side note: what do you use it for as it pertains to sales and marketing? Me ... I've loaded Salesforce, LinkedIn and even a link to my presentations should I meet a prospect on the road.)