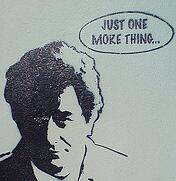 While recently updating our training materials for new hires, I was digesting all the valuable info from our friends at The Bridge Group on inside sales benchmarking and inside sales training. One particular article captured my attention because it stated some basic principles that many sales professionals sometimes fail to heed.
The article, Sellers & Marketers: Have Them at Hello! by Matt Bertuzzi, shared four points that can make the difference between a sales pitch and a sales conversation:
Be clear & concise
Be remarkable
Be honest
Be relevant
When I do our training, I add a fifth point:
You can be honest, clear, relevant and remarkable, but if you're in a conversation, don't forget to listen. Your prospects want you to be interested in them and their issues. Ask questions. A conversation is more valuable than a pitch. In fact, I recommend to our appointment setting experts that for every couple of value statements presented, try and ask an open-ended question:
"...it's different than traditional lead gen. Appointment setting done in a pay-for-performance basis provides you with predictible ROI. What are some of the measures you look for in your demand gen programs?"
Showing respect and understanding for prospects' needs and pain points not only allows you to tailor your sales style, but also shows them that you bring value to the conversation and are not just a run-of-the-mill salesperson.
"Just one more thing..." What's the best Columbo question you use?