There were days in my lead gen life where I could have easily left for lunch and not come back for four hours. MIT data shows that that might have been a good idea!

Gerhard Gschwandtner of Selling Power just highlighted last year's MIT / InsideSales.com study of outbound prospecting lead conversion. The report details such information as the right time of day to call, the best day of the week, how the response time to a lead impacts conversion, etc.

It got me thinking. For many reps, unless territory comes into play, lead gen exists in a three-time-zone map. For years we've been able to sort our lists by time zone, but what if we could tune it even further and optimize the effectiveness our day using the MIT stats?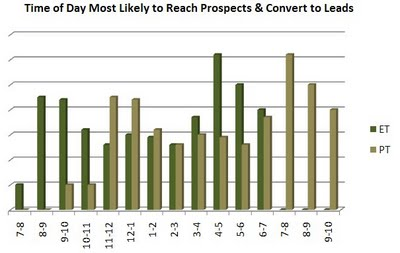 Layer the times together and stagger them for time zone. Due to the East coast and West coast being predominant in our targeting, we tend to call 40% ET, 40% PT, and 20% CT/MT, so to simplify the discussion, I've just shown ET and PT. The timeline at the bottom is on Eastern time.

The chart shows that to maximize their production, East Coach-based reps targeting both coasts during the prime times for each time zone and assuming an 8-hour day, should be working from:
Target East Coast 8 am - 10 am
Target West Coast 11 am - 1 pm
Target East Coast 4 pm - 6 pm
Target West Coast 6 pm - 8 pm
For strategic planning purposes, this justifies bi-coastal teams. It also suggests a shift in activity during the day. Make the prime times the power-dial sessions, and make the lulls the time where research and other non-dialing activity is completed.

So the next time you run late returning from lunch, show this report to your boss and keep dialing.

More Lead Generation Tips.