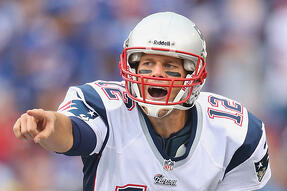 My good buddy and best man, Dave, has been commissioner of the same Fantasy Football league for over 12 years and a few years ago asked if I was interested in taking one of the empty slots. My obsessive-compulsive, statistically driven, multi-scenario-challenged gaming mind was intrigued. Could I possibly put together a team that could beat other experienced teams week in and week out? Even if the matchup is one-sided on paper?
Sounds simple, but here's the deal. I'm more of an owner and less of a coach, so I did what I do best. I hired Lenny, a co-worker at the time and a kick-ass coach, and learned from someone who knows more about Fantasy Football than I do and still enjoy the results. Now three seasons later, Lenny is gone and I won last year's season. This year opened with a tight match against Dave, and it came down to the last two players--he crushed me. But I'm a coach.
Tips to learn from Fantasy Football when building awesome inside sales teams:
Be a coach. Understand your team and their challenges, week in and week out.
Understand the rules. If you know what scores you points you'll make better decisions. Ask the commissioner (your boss) if it's unclear.
Learn from the pros. We read Fantasy blogs; we also read B2B sales and marketing blogs.
Look for raw talent that requires the least maintenance.
Find the studs that, head to head, will overperform every week.
Think about your deficiencies and hire accordingly.
If your team needs adjusting, make the shifts. It might mean cutting a player, or drafting a new one, or moving someone up from the bench. Think big picture.
Don't fall in love with a lineup. If you need to let a player go, cut your losses.
Track the stats. Every stat -- even the ones you aren't sure are valuable. They will be someday.
Think Superbowl. Don't forget the long-term play is to win.
Lastly, have fun. Every day. Have fun. If you and your team are enjoying your jobs, you'll always make the playoffs and be in a position to win!
ps. I do have Tom Brady in both my leagues this year. Maybe I should take some lessons from Belichick?