Google has figured out a neat way to take over the conference call industry. They just added their Google Hangout invite link to EVERY Google Calendar invite that you schedule. It's listed above the meeting notes, so if your not paying attention and you've got GoToMeeting or WebEx or Join.me bridge numbers and links in the body of your invite, expect a few people to click the Hangout link and ignore the rest. I've done it twice in a week!
Your cancel and reschedule rate will soar through the roof!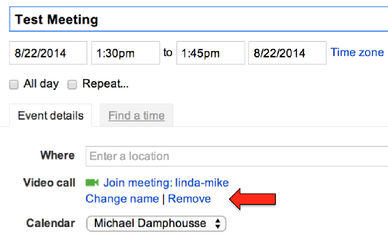 There is a manual work around and an admin level work around. The manual work around is simple, just remember to click Remove as you are creating the meeting. The admin level fix is that they can disable this feature through the calendar settings page in the Admin console.
Note: Hangout video calls are only added if the event creator has an active Google+ profile.
Don't get a No Show or Cancel or Reschedule if you're using Google Calendar. Pay attention and click Remove, or switch your meetings over to Google Hangout. Either way works for me.