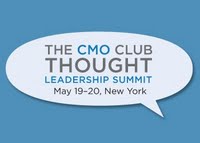 I'm at the CMO Club Summit for a couple days and the room is sharing the event with twitter hashtag #cmoclub. You can find a stream of the tweets on twitter search. I'll be writing a more detailed article later, but I wanted to share some tweets of value from the day thus far:




jkrohrs: Actionable idea #6 for CMOs in down economy: "Outsource." More done with same $. List building. Trigger events. Creative. #cmoclub
stephfierman: Singer John Legend performing live -saying core of his own personal brand is building trust among his fans #cmoclub
tibco: Ram Menon, CMO of TIBCO "always hire people smarter than you" #cmoclub
jkrohrs: Commenter: "We do everything in our power right now to avoid hiring Millennials right now. They feel too much entitlement." Ouch. #cmoclub
DavidHarkleroad: #10 mktg idea for a rotten economy, Mitch Bishop, iRise, #cmoclub: buy a competitor
damphoux: @stephfierman just shared that SEC says tweets are "discoverable" #cmoclub
gail_nelson: #CMOclub Patrick Crane of LinkedIn - Look for "re-targeting" -- uses of cookies to track your activities and market to you"
jkrohrs: CMO SMS survey: If you had 10% more budget in 2009, where would you spend: 10% search, 20% social, 50% demand gen, 20% headcount #cmoclub
damphoux: Ed Lemire, EVP Marketing, Acteva. "Only be happy when sales is complaining less than normal about leads" #cmoclub
samdecker: In "7 Ideas for CMOs" Session. Idea 1 for CMOs: Get out of your office. Visit customers, partners, internal teams #cmoclub