Activate Acquires Green Leads
Two Founders' Farewell and Leaving the Company We Founded in Good Hands.
Back in 2007, Linda and I had no idea we would have built a global pipeline generation company that the Fortune 1000 and some of the biggest tech firms in the industry would trust to generate their sale pipeline from high level Ideal Customer Profile leads (ICPs) to booked and confirmed Sales Qualified Leads (SQLs, or appointments). But here we are fifteen years later with a company that has employed over 1200 people over four continents. Green Leads has been our baby, it's been in our DNA, and everyone we've worked with has always been considered friends and family.
News
Today marked a big day in the history of Green Leads. Activate, a wholly-owned subsidiary of Next Fifteen Communications Group (LON:NFC), announced that it has acquired the company. Both companies will operate independently, as is, and also mutually beneficial pertaining to strategy, intellectual property, technology and other resources.
What does this mean for Green Leads' clients, employees and partners? It means no change to day-to-day operations. It widens both companies' reach, network and footprint. Activate is the home that Green Leads deserves – a close knit company, still managed by the founders, that understands the marketing and sales landscape and will be an enduring partner moving forward.
Enough business. Here's the rest of the story – the story of why Linda and I are confident we're leaving Green Leads in good hands.
Fraternity Brothers
The history of Green Leads goes back to 1982. Wait? Some of you say. "Didn't you start in 2007?"
True, but let's go back to Merrimack College in 1982. I was a freshman at Merrimack College and pledged the Nu Phi Kappa fraternity. It was the first rush night when all the brothers were mingling with us freshmen, when this curly haired guy walked in – nice clothes, and a tie. What the hell, a tie? Someone nudged me and said, "That's Mike Farrell, he was on our board and he's now a co-op student and has a great job in the software industry. They're gonna hire him as a full-time sales guy when he graduates in a couple months."
It took me about an hour to finally get the attention of Mike. He said hello with a big smile and carried the conversation for what felt like an hour. He's a master at conversation, for those of you that know him. Affable is not enough to describe Mike. He was asking about me, my interests, my life. Not self-serving at all. He cared.
Long story short, I joined the fraternity and befriended Mike. He did graduate the following year, so I didn't see much of him after that, other than at a golf tourney here and there. Then in the late '90s, when I was a co-founder and CEO of a startup, Pangaea, which used rudimentary AI to do product configuration. (We were way too far to the right in the adjacent possible and got hit hard by the dotcom bubble, yet it still resulted in what, in today's terms, was a minor exit.) I bumped into Mike while walking through the Sales Force Automation conference in Boston, I turned a corner and almost walked into him – I hadn't seen him for years but we reconnected and ended up doing business together at his company, CIC.
I recall being in his corner office, when in the middle of an engaging conversation a smart-looking, professionally-dressed young woman walked in and interrupted us for his signature. He said, "My inside sales manager. It's the end of the month and she's persistent," and we continued. I watched her walk away and then rejoined the meeting.
Teammates
Fast forward to 2004. My phone rings and it's Mike. "Hey Damp, it's Farrell, can you meet me for breakfast?" We met a few days later at Four Sisters Owl Diner in Lowell, Mass. He offered me a position at By Appointment Only. The way he described it, "Tech guru and change agent," he said. I didn't really think that long and accepted.
My first day on the job, Mike introduced me to Linda Flanagan. His lieutenant. He tells me he's hired her now at three companies, CIC, PC Connection and now BAO, and that she's the best client service leader he's ever worked with. She comes into his office and I've got this feeling that I know her. Then as we started working together, interestingly, we didn't get along – oil and water. In fact, one of our colleagues referred to us as the "odd couple."
While at BAO, Mike was building the category of pay-for-performance appointment setting. Linda and I learned and understood the B2B sales and marketing business as well as the appointment setting business. We finally got over the tension between us and learned to work well together.
Then one day it comes to me, "Wait! I met you years ago!" It was Linda that walked into Mike's office at CIC back in the day. Linda, who interrupted our meeting for a signature.
Green Leads
Linda and I became friends at BAO and after I left, remained friends. Eventually, we became a couple. Then once our non-compete agreements expired, we talked about how we could use technology to our advantage and make client service and quality our top priority – redefining how pipeline is generated. We then started Green Leads in an oversized closet in our apartment. A closet, two computers, and a credit card.
Here's the fifteen year timeline:
2007 Formed Green Leads, providing SQLs (appointments)
2008 The two of us get married
2009 Closed our first billion-dollar company (at higher than industry price)
2010 Expanded our pipeline generation offering with MQLs/HQLs (marketing qualified/highly qualified leads)
2011 Acquired Target 250 in London to enter the EMEA market
2013 Moved 100% of the company to a virtual, cloud based company
2016 Add ICPs, EQLs (event qualified leads)
2018 Add IDLs (intent data leads)
2019 Appointed Mike Farrell as CEO (Yes, that same Mike Farrell!)
2020 Conquered Covid since we were already virtual
2021 70% year on year growth during Covid
2022 Acquired by Activate
Family
We've generated over $10B in pipeline, helped our clients close over 60,000 deals, and had a hell of a good time along the way. All along, we treated over 1200 employees and contractors on four continents as family. Our alumni have launched incredible careers: a Vice President at Oracle, a founder/CEO of a Series C Startup, a part time high school graduate who is now an Account Manager for a leading SaaS company, to name a few. We loved to see our alumni grow – and wished them luck as they did. We encouraged growth. When someone resigned for a career path decision, we celebrated it.
I started another company, Category Design Advisors. This prompted us to hire Mike Farrell to replace me as Green Leads' CEO. Having both known him for decades, he was an obvious choice. He has taken Green Leads and brought it to another level. He's an incredible leader and shares Linda and my values for how to work with clients and partners, and more importantly, how to nurture, grow and manage the Green Leads team.
Farewell
I love the category design work I do and will keep doing it. Linda is going to retire and travel with me, turning every business trip into an adventure. She'll enjoy our grandkids and read a few books along the way. We both will look back at Green Leads as a special time in our lives. And we'll know that we left it in good hands with Mike Farrell and Activate.
Thank you to all the employees, clients, partners, friends and family that were there for our journey.
Lastly, thank you Mike Farrell. Linda and I – and Green Leads – would not be here today if it weren't for you.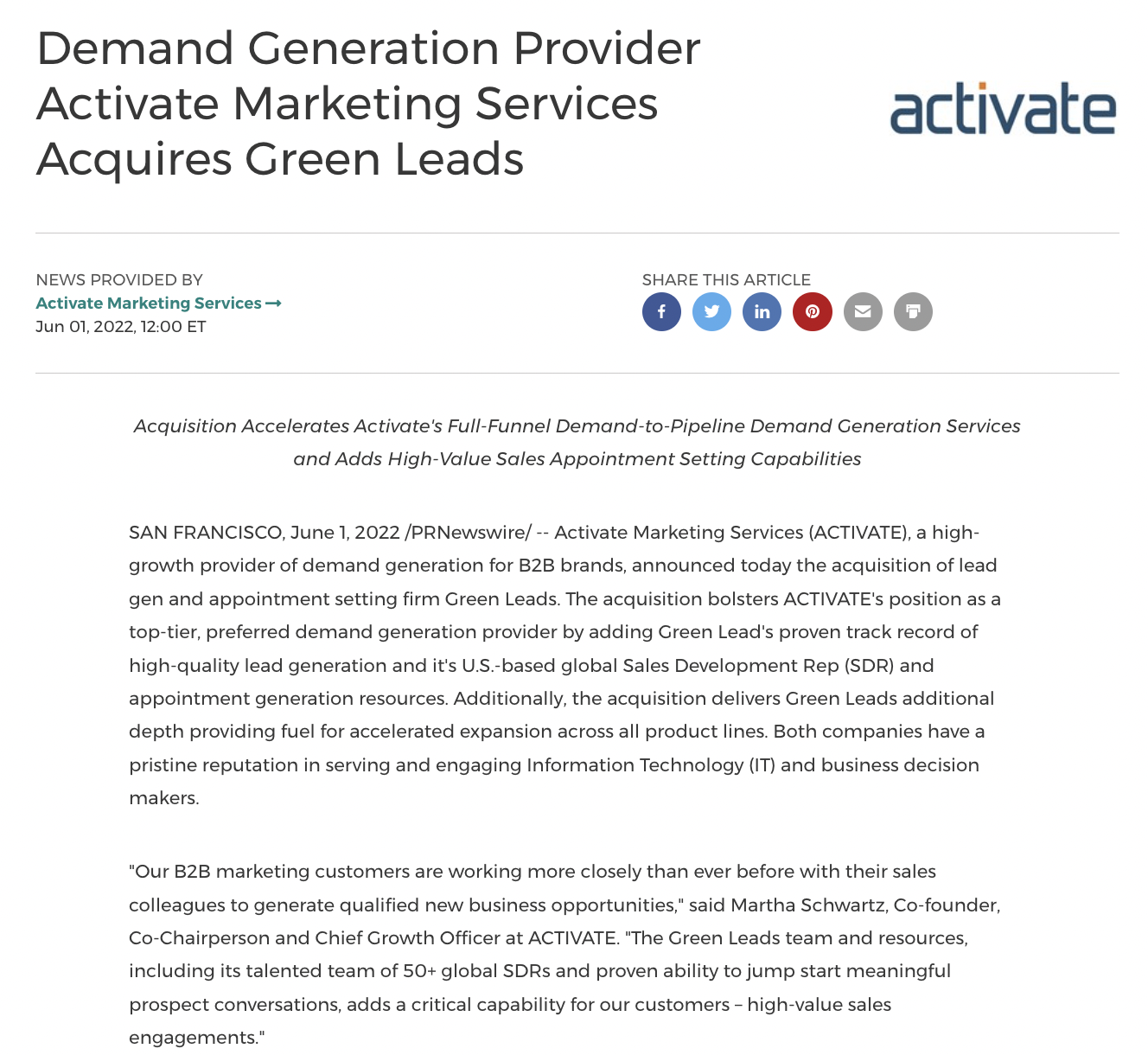 Mike Damphousse
Mike brings a hard-nosed, pragmatic aspect to category design, baked in from two decades as a company founder, CEO, CMO and sales executive. He understands how companies work and how to take a category plan from concept to implementation.