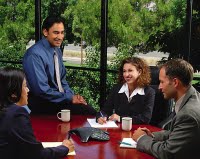 When I was recently at the Sales 2.0 conference, I had several conversations and debates about the value of Face-to-Face meetings versus Con-calls/Web-meetings. Being that b2b introductory meetings is Green Leads' business, we have noticed a trend over the past several years. With the advent and popularity of web conferencing and the price of travel, most executives are accepting con-call/web-meetings as a standard way of doing business - especially introductory meetings. It has become pervasive, and respected, to do business this way. As some of you know, Green Leads also has a research arm where we conduct market research for clients. We used this team to target a pool of 600 companies (200 F1000, 200 $100M-$1B in revenue, 200 $50M-$100M in revenue). We were able to gain responses from 260 executives (C/VP/Dir). We questioned them on the topic of Face-to-Face vs. Con-call/Web-meetings. These are the results:
Respondents:

15% C Level, 31% VP Level, 42% Director, 11% Other
37% IT/Technical, 24% Sales/Marketing, 16% Finance/Operations, 23% Other

Question 1 - What percentage of the introductory meetings you take with new vendors or partners today are done Face-to-Face vs Con-call/Web-meeting?

42% Face-to-Face
58% Con-call/Web-meeting

Question 2 - Do you see an increase in the number of meetings taking place by Con-call/Web-meeting?

62% Definitely
16% Somewhat
22% Not really

Question 3 - Are these meetings satisfactory for the purposes of introductory discussions?

69% Definitely
26% Somewhat
5% Not really

Question 4 - Do you get more from a face-to-face meeting vs. a Con-call/Web-meeting?

32% Definitely
17% Somewhat
51% Not really

Question 5 - What does your company do when they need to initiate an introductory meeting with a prospect or partner?

64% Con-call/Web-meeting
32% Face-to-Face
4% Video conference
3% Tradeshows
1% Other
The data seems to show that Con-call/Web-meetings are becoming more common, and more acceptable as a way to start a business relationship. A strong indicator is the last question where the majority of respondents indicated that their own companies are moving towards more Con-call/Web-meetings.
If during the appointment setting, it is the wish of your prospect to conduct the first meeting by phone, don't shy away from it. Take the opportunity and make the best of it. A couple things to consider:
Con-call/Web-meetings have a higher rate of cancellation/reschedules/no-shows. This is just the nature of the commitment. It's easier to cancel or move a meeting when a prospect knows there are no plane tickets involved.
For Con-call/Web-meetings there is a trend of delegating to lower-level staff prior to secondary/follow-on activity.
Con-call/Web-meetings must be treated as formally as a Face-to-Face meeting. A casual phone call is not appropriate. Setting up a bridge number, having an online presentation, and additional attendees (Applications Engineer, Manager, or other supporting attendees) can help improve the quality and acceptance of the meeting.
Some prospect executives simply won't take face-to-face meetings. If the prospect is the proper target with the proper role, it is recommended that this be respected and a Con-call/Web-meeting take place.
Face-to-Face meetings do still seem to have a higher level of success due to the personal commitment and interaction. When at all possible, do Face-to-Face meetings. Despite your preference for the style of meeting, be understanding when a prospect asks for one over the other. Unless there are travel/scheduling conflicts, we recommend abiding by the prospect's wishes.
Make the goal of any introductory meeting to get a second meeting. Don't over-sell.
In conclusion, if you want to have meetings 2.0, then take them any way your prospect wants them.