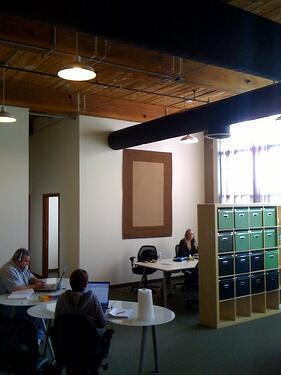 When we started Green Leads we set out to build the perfect Virtual Call Center. We accomplished it, and other than not seeing people face-to-face every day (they still are required to come in a few days a week), the way we work is identical to a traditional call center. We can see people's dials, what CRM records they modify, listen in for training, etc. Of the many benefits, here are but a few:
Working from home
Distributed resources for disaster recovery (this happened with last year's ice storm)
Flexible hours, allowing for a better work/life balance
Reduced overhead of an office
The use of "work at home" as an incentive for performance
No commute adding an hour or two to people's personal lives
All the environmental beneifts -- no new computers, no commute, less waste
There were some issues, though. We lost two employees who wanted more of a team community. We lost another because he and his wife were unable to be home all day in the same house. We lost some borderline employees who we may have been able to save with better coaching and training. All that said, we grew 4X over three years. Things are booming. But we wanted to resolve these negatives.
The solution: a Virtual Hybrid. We built out an office with the "hotel" concept. We still use all the same cloud technologies, but if you want to call a desk home for a day, the office is available and it's got all the comforts of home.
Each person has a box to store personal belongings in (see photo). A picture of the family, a coffee mug, a special mousepad ... we even have someone storing his own flavored coffee creamer.
What has worked better than expected is the impact on new hire training. They can stay in-office for all the coaching and training we can give them. We can even use the work-at-home goal as an incentive to ramp up to speed. On the other hand, we've asked our veterans to schedule regular "in-office" days a couple times a month for project meetings and mentoring.
The benefits:
Increased team community
Faster training and ramp-up
Continued virtual benefits
Reduced overhead cost (facilities, and use of virtual technologies)
A place to meet visitors
Centralized location for the management team, who require more interraction
Ultimately, just during month one -- a holiday month to boot -- December's weeks have seen the highest appointment setting rates of the year. Linda and I drive a hybrid car...now we work in one.
How do you work?