Just a quick note to everyone who might be spending the next few weeks planning for the new year. Don't take your eye off the ball. January, along with June and October, are the biggest Demand Gen months for Green Leads, and it may be for you as well.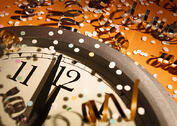 Three years of production data shows that on a per-rep basis, January produced 35% more appointment setting and qualified lead generation than the worst month, August.
What was the best month? June.
What was the most suprising month? December - we set an all time record for weekly production in the first two weeks of December. So much for those clients that ask us to put programs on hold between Thanksgiving and New Years...lots of missed opportunity for them. The last two weeks do taper off, but December still came in 6th for the year.