This past week a prospect commented that she wanted to explore a third-party lead gen program because their sales reps were spending too much time prospecting and not selling. She said that if they had enough leads they would be SELLING and CLOSING -- not having to do lead gen.
How many sales reps are caught in the prospecting grind and not closing? Sounded like a LinkedIn Poll to me.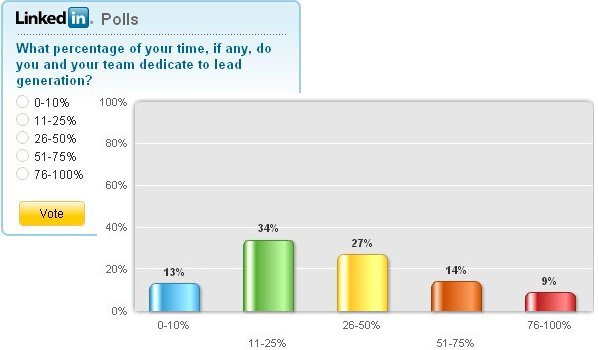 The results seem to make sense, right? About half the people spend somewhere between one and two days a week doing lead gen.
Wrong. If I'm a salesperson who knows how to sell and close, why on earth would I be wasting up to half of my time doing lead gen?
Salespeople should spend their time on activities that result in more revenue:
Talking to prospects
Building rapport
Handling issues
Putting proposals together
Negotiating and closing
All of these activities require prospects, and prospects start from leads, mind you. But salespeople shouldn't be the ones generating the leads. Inside sales teams, outsourced lead gen companies and other lead gen techniques that marketing or sales operations can run should be on the top of chosen lead gen strategies.
This is my desired curve. What is yours?