At one time or another, I've been asked by demand gen folks, Green Leads' clients and prospects, "So you set b2b appointments only with C/VP level executives?" So a LinkedIn Poll was in order.
A C Level meeting is the holy grail of outbound marketing, everyone wants to hear "Yes" and then implement a successful program. That said, the short answer is that if we did set only C/VP level meetings, we would set half as many, the cost to do so would be doubled, and our clients would miss out on half as many pipeline opportunities (sometimes more). Also, some clients are happy with mid-level meetings (do they know something others don't?)
We thought the discussion deserved a poll and some solid stats. We used LinkedIn's paid poll feature to collect the results. Our poll, targeted 500 C and VP level respondents at companies larger than 200 employees:
If your company wants to understand a new vendor's offering, do you meet with them yourself or delegate down (Dir/Mgr)?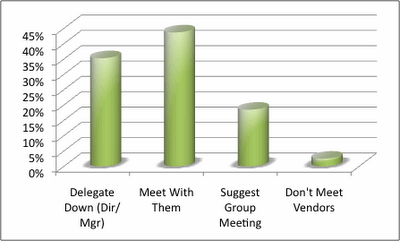 Executive Summary:
1/3 of C/VP level executives refer new vendors to Dir/Mgr for intro meetings
A higher percent of introductory meetings with Dir/Mgr convert to ongoing sales activity
Across functional areas of an organization, Marketing delegates more than any other department and Finance delegates less
We always start high, by working from the C/VP level down, but many times when we connect with a senior executive they want their company to learn more about the vendor, but they delegate the meeting to a lower level. In most cases, this is one level down from their title (C refer to VP, VP refer to Dir, etc.).
The numbers didn't surprise us. In fact they match, almost to the percentage, our tracking numbers of what titles we set meetings with. So even when we engage the C/VP level prospect, 33% of the time we will secure a meeting with a lesser title. Does this mean the meetings will be less valuable? Not at all.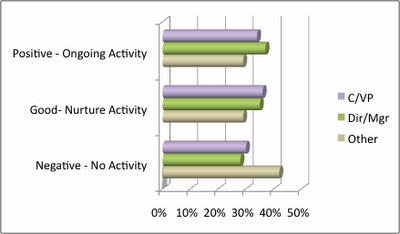 I've published articles about how we measure appointment setting outcomes, and that the industry average is roughly 1/3 of introductory meetings move on to further pipeline activity. More, if additional marketing programs augment the program. We just sliced the data by title and found that meetings convert to ongoing sales activity slightly more with Dir/Mgr initial engagements, whereas C/VP convert slightly more to nurturing activities.
As an interesting twist to the data. Check out the variation of stats between departments. Finance claims to be more receptive to meetings. I'm sure there will be plenty of sales execs out there that will have differing opinions to that stat.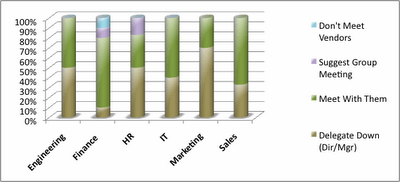 Final side note: Male respondents were 30% more likely to meet with a vendor than female respondents. Whereas females are 2X as likely to suggest a group meeting.
What have you found about the relative value of a delegated meeting versus a face-to-face with an senior decision maker? What makes sales ready leads?