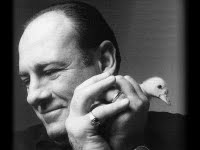 Tony Soprano:"Every decision you make affects every facet of every other #?%!% thing."
ok, the Tony Soprano thing was just a late addition after I read some hilarious quotes from the show on IMDB last night, and realized they had some ...ahem... relevancy -- just a little fun ;)
For years the world of b2b marketing has used outbound marketing as a source of lead generation. Many companies also operate inside sales departments, and there has been an industry built around supporting these efforts and providing superior service to clients. Services such as appointment setting, lead generation and list development are pervasive and a very common tool in the demand gen arsenal.
Then there was the Google. Studies have shown recently that most buying decisions start with a Google search. Although I don't totally agree with the statement (especially as it pertains to emerging technologies), I will agree that it's Google that sits on most people's desktops all day long and is a tool we use constantly. Our goal as marketers -- get the buyers to find relevant content, then find links to vendors, then capture their name as a lead (eventually). Classic inbound marketing.
Tony Soprano: "Hey, You want that, it's a phone call away."
In order to capitalize on this, there's been a rush to successfully implement inbound marketing strategies so that we can capture the leads that are out there stumbling on our sites from various sources. Search engine marketing (SEM), search Engine Optimization (SEO), blogging and social media strategies all contribute to solid Google rankings.
Marketers have been considering their strategies in two budget line items. Inbound marketing and outbound marketing. Some have even gotten passionate about which strategy is the ultimate demand gen horse to ride, the majority seem to be implementing both inbound and outbound marketing equally. What many have overlooked is that most inbound leads don't just jump into the boat with a purchase order. Raising their hand for an ebook shows interest, and coming back to the site several times for more content raises their interest (and hopefully your lead score), but when are they going to jump in the boat?
Tony Soprano: "A wrong decision is better than indecision."
This is where the alignment of inbound marketing and outbound marketing come together. Over the past several months I've visited several companies that specialize in inbound marketing (if you follow my blog or twitter, you'll know who they are). I've been to lead nurturing companies, marketing automation companies, SEO companies, SaaS companies offering solutions for inbound marketing, etc. One thing they all had in common was a sizable outbound marketing component to their own marketing efforts -- large inside sales teams, outsourced lead gen companies, and appointment setting programs. There always has to be someone to give the pitch and ask the questions.
Tony Soprano: "Oh, poor baby. What do you want, a Whitman's Sampler?"
Any good outbound program starts with names. The names can be purchased from Jigsaw, Onesource or other data sources. They can be identified or researched. They can also be somewhat warm from inbound activity. In fact, those warm ones have the highest lead scores in most systems. But getting that human being that's raising their hands to talk with you is the ultimate challenge, and inbound marketing certainly makes outbound marketers more effective in this task.
I'm not slamming inbound marketing whatsoever, in fact Green Leads is investing heavily in it for our own benefit as well as combining inbound services with traditional outbound services in order to maximize our efforts (see: Hubspot, LinkedIn, twitter, Facebook). What I'm advocating is for Demand Gen Alignment. Maximize the investment in both inbound and outbound.
As Tony Soprano may have said if he were a marketer: "There might be an inbound mafia and an outbound mafia, but together, the family can be stronger and produce."