In the Smashmouth Review of Genius.com Part 1, we focused on Genius Pro. Since then, we've had the opportunity to work with and evaluate Genius Enterprise. The one liner summary: marketing automation and sales enablement with a 2.0 twist.
The product is so rich in features that this article alone will not do it justice. It's always tempting to try to make apples to apples comparisons with other marketing automation vendors, but Genius is different. Genius eliminates the need for heavy IT support. After just a few hours of use it allows a non-guru to establish some incredibly strong functionality. It's suitable for small business, or for a larger, more sophisticated organization.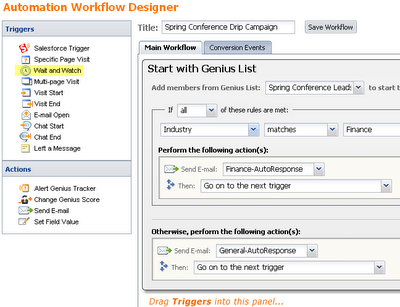 The heart of the package is the Automation Workflow Designer. This provides a the ability to create logical processes of conditions, actions, and communications that together can walk a prospect through the nurturing and selling process.
Consider this example. Sounds complex, but it was able to be configured in 30 minutes with the drag and drop editor that is both intuitive and fresh in its design.
- If the prospect is not on any other campaign, send an initial email
- Wait for 5 days, and if during those 5 days the prospect had clicked through to the site, increase their lead score, and keep watching and waiting
- If during those 5 days they visit the site multiple times, then increase their lead score again
- If during those 5 days they download a specific white paper and look at the Contact Us page, increase the lead score and send a more targeted email offer. At this point, notify the sales rep and then remove this lead from the workflow and have the rep pursue them by phone
- What sets Genius apart from the rest if at any time during the waiting process a qualifying conversion event is reached the rep will notified immediately and the prospect will be removed from the workflow
etc. (you get the picture)
Key among the features is the ability to have the Genius Tracker notify you by email, SMS or the Genius Tracker IM-like interface when a rep takes a qualifying action like visiting your site or reaches a qualified lead score. From there the rep can link to the contact's history -- what emails have they received, and what actions have they taken. There is also a TiVo-like replay of their visit available, which is a rich way for a rep to find out what the prospect was interested in
and target the followup conversation. To top it off, the system also has an integrated chat/messaging system for visitors to use, as well as the ability to display an Instant Promo window that can contain custom messages.
Smashmouth recommendation: Thumbs Up


End of independent review.
As opposed to the obligatory comment from the company, I asked if I could speak with a power user. .
"Genius Enterprise is designed for Marketers with sales in mind," says Joanna Giannotti, Global Marketing Director at ClickSoftware. "It's simple drag and drop campaign creation makes cumbersome, complicated marketing automation solutions a thing of the past while their exclusive Tracker alerts Sales with an instant notification when prospects are hot so they can offer rapid service. It all means greater Marketing success and more closed deals for Sales."
As a postscript...this whole exercise had my desktop going off every few minutes with an audible signal that someone was visiting my site. It leads me to continue the debate...when I hear that noise, do I pick up the phone and POUNCE? (more: Pounce, Pause, Nurture or Wait?).