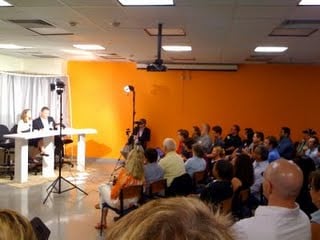 Karen Rubin and Mike Volpe Hosting Hubspot TV's 1 Year Anniversary
Yesterday was the start of my evaluation of Hubspot. There will be a Smashmouth Product Review coming shortly, but I just had to comment on how it got started. After a one hour detailed demo from Bonnie and Chris, and an interrogation by me, Linda and I got to join the Hubspot team and local twitterati for the 1 year anniversary of Hubspot TV. It doesn't impact the review, but it definitely impacts my impression of the company and people. They were all energetic, fun, welcoming, marketing-savants -- great to be around.
We loved every minute of it. Thanks to Dan Tyre and Mike Volpe for hosting us.
As far as the review... I've spent about 3 hours with the product (not counting the time Bonnie and Chris put in), and I've been able to use most of the basic functions without a hitch. I was trying to upload a video and couldn't quite figure out how to upload/host it. For now I had to opt for a slideshare version of our video What Does Sales Want? I'm sure I can get a few pointers from support and put a checkmark next to that issue.
My highest level of excitement though is the fact that SEO and Inbound Marketing written all over it. I can hear "you've got mail" already.
More detail in the official review.