Today is fathers day, and my kids lived up to the holiday tradition by surprising me with a baked french toast casserole and bacon. The joke was (for the big guy that has one stent in place already) that they were out to kill me. We're heading up to my sister's house today to visit with my dad, Roger Damphousse ("Pepere" as the kids call him), and eat again.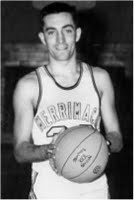 That said, it reminded me that one of the most influential people in my business life was my dad. After an incredible basketball career that paid for his schooling (a division 2 all-American at Merrimack College, scoring 1,774 points in just 3 1/2 seasons without the 3 pointer), he became the consummate executive and community leader. After several years at Avco (now Textron), he then moved to a job with Sanders in Nashua, NH. Despite a run in the middle where he stayed with his division as it was sold to Harris, he ended up back at Lockheed, who bought Sanders and retired as President of their commercial electronics division.
Growing up the oldest son of an executive taught me some things. They took a few years to sink in, and for that period of time when I thought I was going to be the next Tony Alva in skateboarding, I didn't quite listen hard enough and might have missed a few points.
The following wisdom comes from his being a paper boy for the Lawrence Eagle Tribune, to when he was President of a division of Lockheed, to when he retired and is still on the board at Rivier College and running a non-profit project each year in Florida in between his daily round of golf. My dad was never in sales, but he understood the fundamentals of selling.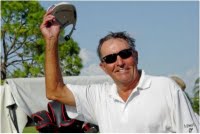 Dad, here's to you...(see, I was listening):
1. Maintain honesty and integrity at all times
2. Build relationships with your clients
3. Be creative and solve a client's problems - bring value to the relationship
4. Personal Branding is all important (he probably doesn't know this is even a term nowadays, but he'll get it in 10 seconds)
5. Always be networking - work your social networks, be it sports, college, the neighborhood, charities, the country club or church
--------
(Bonus Point)
6. Family keeps you together, motivated, and provides a safe harbor when a business deal goes south
Thanks Dad, Love You!