There is the business me, and there is the personal me and always the two have mixed. It's obvious by the two feeds you see on the right. I post both topics here on my blog and I believe that the coexistence of business and personal identities given today's social media is the way to go. We are all connected one way or another. We tell personal stories when we meet someone at a networking event and we tell business stories to our friends. Over the years, my most successful business relationships were the ones where the personal and business interests overlapped. Personal branding does impact business branding.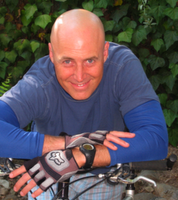 A buddy of mine, Christopher Lochhead, who was CMO at Mercury when they got acquired by HP, had some thoughts. Chris is a fellow in-your-face marketer who for years has been successfully packaging his own personal style and professional being:
"business is social. business is personal. the most successful business people in the world have always known this. in the new social business world, there is no wall between your personal and professional lives. that's the point. welcome to the transparent life. today people share key accepts of all of their life experiences on line. this makes their relationships stronger. the technology has made it simple to stay connected. Which is fantastic - personally and professionally. The downside is you have to be smart about what you share. remember that love is temporary, Facebook entries last forever."
A list of 10 opinions:
The "professional blogging" oxymoron by Ana Ulin
Personal vs. Professional Blogging by Henri Bergius
Should We Keep Professional and Personal Separate in Social Networking by David Mullen
Personal vs. Corporate: Who Owns What You Create Online? by Rosie Reilman
Social Media Identity: Personal vs. Professional by Hutch Carpenter
On CNN's Personal Blogging Policy by Chez Pazienza
Personal Branding while Hiding Facebook Identity by Brittany Creamer
Contrasting Personal vs. Professional Uses of Social Media: The Case of Healthcare Blogging
by Dmitriy Kruglyak
Personal Networking vs. Professional Networking by Spike Jones (love this blog, btw)
The Socialization of Your Personal Brand - Part III by Brian Solis
Actually, it's 12 opinions if you count Chris and me. Ten just sounds so much cleaner.