I'll be attending the TOPO Sales Summit on April 7-8 in San Francisco. If you are a sales, sales development, sales operations, sales enablement, or even marketing leader, you should attend. The agenda looks amazing and the attendees are basically everyone in SaaS.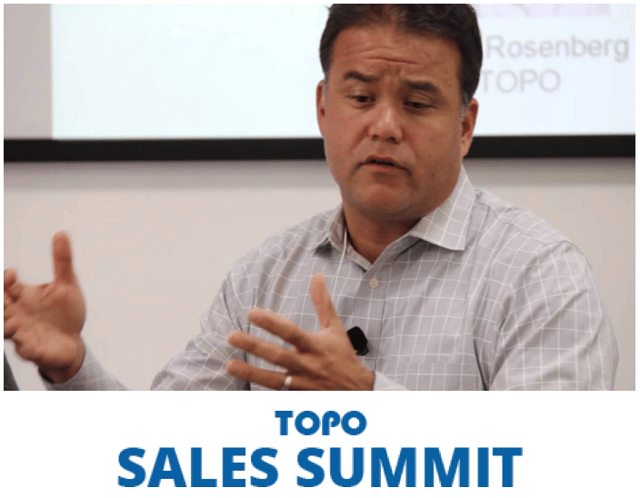 I'll be attending the TOPO Sales Summit the first week of April and am looking forward to hearing from the sales and marketing trenches. The information and networking that will flow at this conference, is unprecedented in our industry. If you think about sales, marketing, demand gen, inside sales, sales development or pipeline, this is a must-attend event!
I've been friends with TOPO Co-Founder Craig Rosenberg (@funnelholic) for 10 years and thought we would have some fun leading up to the event by asking him 20 questions. I gave him a caveat; he can only answer them in 3 sentences or less. For the most part he complied, but in typical Craig form, he had to use sentance #4 here and there.
Tell us about the Summit?

The first annual TOPO B2B Sales

Summit

will take place

April 7-8 at Pier 27 in San Francisco. We will bring together over 600 sales leaders responsible for more than $50B in revenue. We've recruited an amazing lineup of speakers from companies like Google, LinkedIn, and Box.

The website for the event is: TOPO Sales Summit


Who should come to the Summit?

Sales, sales development, sales operations, sales enablement, marketing, marketing ops leaders.


Why should someone attend this event over another conference?

I need to go a bit over the limit on this one. Four reasons:

People - the best sales leaders in the world will be attending and speaking
Specificity- these amazing speakers will provide real specifics of how to actually execute
Topics that matter - Real topics on how to run your sales org. No fluff content
Fun - I am the Funnelholic, it has to be fun


There are so many conferences, why did you decide to do this?

The modern sales machine is scalable, efficient, predictable, and innovating at hyper-speed. The time is now for a conference that focuses on these innovations and how organizations are executing them.


What's the most interesting topic?

They are all interesting but I would say our keynote should be fun for everyone. We have Jeff Ma, who was the leader of the MIT card counting team featured in the book and movie, Bringing Down the House.


The speakers are heavy on Practitioners, the people that fight in the trenches all day long, why not a bunch of industry experts?

We believe in specificity and the best people to deliver specific details are people who are doing it every day. Practitioners and industry experts know their stuff, but we wanted to go deep with the people on the front lines.


How did you get all these amazing speakers to participate?

We have spent two years studying high growth companies and building relationships with the leaders who run these organizations. I won't say it was easy, but we had a pretty good idea on where to go first.


What's TOPO?

We are a research, advisory, and consulting firm that studies the fastest growing companies on earth. We then analyze that data and help our customers grow revenue faster


Why did you start TOPO?

We were consulting to figure out what we wanted to do next. Every customer, whether they were turning to us for demand gen, sales development, or sales, wanted to know one thing: What are the best companies in the world doing? Boom. Topo was born


What are you doing with the Funnelholic?

It's still alive. I blog on it when I want to have some fun but try to do guest posts as much as I can.


What are the biggest trends in sales and marketing?

Account Based Everything. PERIOD. 90% of our inquiries have been about moving to account based something.


What's the biggest mistake you see marketers make?

They buy technology ahead of defining strategy and process. This was an issue in the marketing automation craze - everyone bought software before having a clear definition of what they were trying to do. It's happening again with the Account Based Movement - people are buying applications and announcing they are now "account-based", but they aren't.


What's the biggest mistake you see sales making?

Focusing the majority of their attention on the front of the sales cycle (demand gen) and the end (forecasting and closing). True, scalable revenue growth requires attention and optimization in the middle.


What's the best content you have ever created?

Tough one – I would say The Proven Framework for Sales Development. We decided to write an opus and put it in the blog instead of an eBook. It helped put TOPO on the map.


What's your favorite sales or marketing slogan right now?

People don't buy Legos; they buy the ability to build the Millennium Falcon. Stephanie Buscemi from Salesforce told me that one and it's so spot-on, I don't know what to do with myself.


What's your favorite sales book?

I read them all and find something of value in all of them. If I have to choose, my old boss Stu Silverman told me to read Ogilvy on Advertising and it changed me forever.


What's your favorite marketing book?

Same as above – I read a lot. Ardath Albee is my favorite marketing writer of all time. But I'll give the nod to a recent one, Carlos Hidalgo's Driving Demand.


What's your one piece of advice for marketers?

You've preeched it with b2b appointment setting for years -- it's all about the Account Based Marketing. Segment your target accounts and get into them. All of them. The account based movement is the final piece to real alignment with sales. What is it you say? "Selling doesn't start until the conversation starts." Open the doors and start the conversations.


Famous last words?

See you at the Summit. Anyone who mentions this blog post gets a huge hug. – Click here to learn more and sign up: TOPO Sales

Summit

.


Ok, my favorite question when inteviewing for the blog -- the Curry question. It started years ago for reasons unknown, but it lives on forever. What's your favorite Curry?

Ha! I am going green but I love them all. Thanks everyone! See you at the TOPO Sales

Summit

Summit, April 7-8th in San Francisco