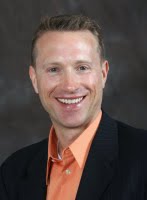 With he upcoming Sales 2.0 conference in Chicago September 10th, it's time again to provide a few pre-show interviews.
David Thompson, CEO of Genius.com was one of the early leaders of the Sales 2.0 movement and recently co-authored Sales 2.0 For Dummies.
Mike: David, what is the hot topic of the upcoming conference? Will Social Media dominate the discussions again?
David: Social Media is taking the world by storm. There are 275 million blogs and 43 million LinkedIn users. Each day there are 1.9 million Tweets and as the New York Times recently posited, Twitter early adopters are adults and not their kids. The question is how can B2B Sales and Marketing organizations take advantage of the social media revolution to better engage with their customers and close more deals? In the Sales 2.0 Conference panel I'm moderating, "Social Networking in a Sales 2.0 World", social media experts and practitioners will describe what's in it for sales and how they can make the most of conversations in the clouds.

Mike: I recently interviewed Joe Galvin of SiriusDecisions on the topic of Sales and Marketing Alignment and his feeling is that it's one of the barriers companies need to overcome to succeed. What are your thoughts there?
David: Sales and Marketing Alignment continues to be a hot topic. In the current economic climate everyone is being asked to do more with less—and so there's increased focus on getting previously silo'd departments working from the same playbook so they can be more efficient, more productive and ultimately more results focused. The panel on "Customer Engagement Strategies" will highlight how Information Builders and others are aligning their sales and marketing departments for greater revenue success.
Mike: Demand gen marketers work hard to generate sales leads, how is Sales 2.0 impacting the effectiveness of sales reps and lead management?
David: And, not surprisingly, everyone is looking for better ways to manage their pipeline. And while most want to move prospects through the funnel faster the true test is actually not velocity but surfacing sales ready leads and handing them off to sales in a timely fashion for right time engagement. Recent studies from MIT/Kellogg point out that a salesperson's ability to connect with a prospect drops precipitously in only five after a website visit is concluded. The conference will highlight users who are using Sales 2.0 technologies to help salespeople engage in timely conversations, pursue better opportunities and eliminate time chasing after unprofitable prospects.
Mike: Last question, the B2B Marketing Thought Leaders Curry Poll: red, green or yellow curry? Which do you prefer?
David:
Yellow thai curry with chicken and potato!