Last week at Inbound, HubSpot announced a new product, Signals. In simple terms, Signals is a Chrome extension that tracks and notifies you when someone has activity on emails, LinkedIn, Salesforce and HubSpot. You get an on-screen notification, as well as a summary list of activity that you can review. In short, Signals is an app that lets you know when and how to engage your leads--timing, intelligence, and relevance.
Sales people now have actionable intelligence from the prospect. Knowing that they have seen your email or they clicked through a link or they are reading your website is gold. It also tells you one other fact...the prospect may be sitting at their desk, or at least not occupied with other activites. It's time to call them. If no response by phone, maybe email them again with a secondary email that you would logically have sent (ie: don't just respond saying "I know you are sitting there doing emails".
If you get them and have some intel such as a new LinkedIn update, or the knowledge that they read certain pages on your website, you can now open the discussion in a relevant way that the prospect will respect and resonate with. "Hi Brian, it's Mike from Green Leads. I was hoping to speak with you about Appointment Setting." (knowing he just read three pages on my site relating to b2b appointment setting).
Brilliant work HubSpot! Enhancing the Inbound experience for sales people.
Screenshot from HubSpot site: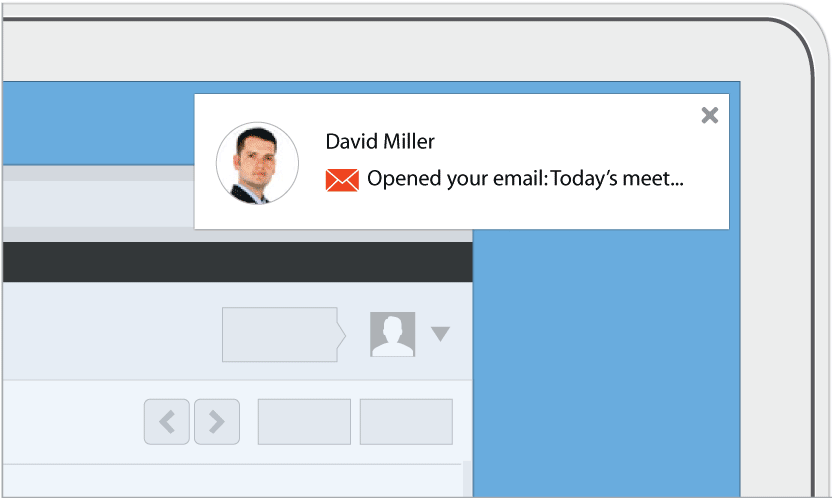 Notification summary (as of the date of this post):
Email
A contact opens your email
A contact clicks a link you've enabled tracking for
LinkedIn (after you mark a contact as a VIP)
When a VIP changes their position
When a VIP posts an update
When a VIP adds a new connection
Salesforce
When a contact becomes a new lead
When a contact opens an email sent through Salesforce
HubSpot
When a contact visits a page on your website
Note: The email open notification only works if the prospect has "display images" enabled. If they do not show images in their emails, email open notification will not work. Solve this issue, and the Gold Medal gets a Gold Ribbon with it.