I've always had a theory that cold calling experts operate in one of two modes, Snipers and Machine Gunners. I was discussing this with Nigel Edelshain at Sales 2.0 and it prompted him to write an article about it, Cold Calling: Sniper or Machine Gunner.
What tools could be useful for each style of dialer? Machine Gunners need lists, tons of names. They strafe the prospects. Snipers, on the other hand, work smart. "One shot, one kill," they say. This isn't to say they dial once, but it means they dial smart. Just like a sniper in the military, they need intelligence to be successful.
A while back we moved into a new building in Andover, the Demand Gen Capital of the World. On one of the mailboxes downstairs I see the name SalesQuest. I've heard of them...they are the guys that do those dossiers on huge companies called CRUSH Reports. Small world, we sell to the same people, we are both in the demand gen space, and now we're one floor apart.
Mimi Evans at SalesQuest introduce herself, Linda and I chat them up, and a week later I'm down there getting a demo on all things CRUSH.
If you're an enterprise sales exec and are selling into the biggest companies out there, and your a sniper, CRUSH Reports are your equivalent of an intelligence file on the target company:
Accurate contacts and org charts
IT systems landscapes, strategies, major initiatives
Summaries of active projects and relevant news
Additional to the reports, there is also an online Advanced Search feature. I have a client trying to identify existing Tivoli users, so we typed in "Tivoli". Instantly, pages of companies show up. Behind each company identified is the deep dive CRUSH Report.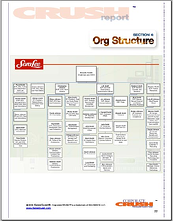 Don't want to miss out on timely updates or news? The ultimate Trigger Event, CRUSH Alerts, acts like specialized agent that is always looking out for you. By monitoring thousands of sources, when CRUSH Alerts finds information of relevance, it emails you with a notification. Unlike Google Alerts or other sales trigger tools, it filters out the noise and provides only information a sales exec would want to receive.
The product is priced for companies of all sizes and can be purchased as one-off reports on their estore, or as a corporate license. Compared to sales execs spending hours and days researching their prospects, it's priceless.
It is heavily focused on IT and Technology intelligence, so if you are selling something outside that area, you should review a sample CRUSH Report. The ancillary info they provide other than the technology data is still extremely valuable. If you are selling technology with executive decision makers..it's a must have.
Don't forget, once you identify the perfect target company, you can further your time optimization and ROI by having an appointment setting company knock the doors down for you. ;)
Good Selling!