I can't be at the Sales & Marketing Leadership Conference in Scottsdale, Arizona, on April 11, but I encourage you to check it out. The event features keynotes from John Grosshans of SAP Americas and Justin Shriber of Oracle (the latter will be reprising his presentation from the recent Sales 2.0 Conference, which sparked a debate a pretty good debate about the future of predictive analytics and CRM.)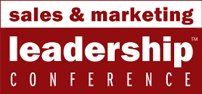 There will be a big emphasis on how the many ways sales & marketing can (and should) work together to shorten sales cycles and optimize lead gen. Conference host Gerhard Gschwandtner explains:

"A recent Aberdeen survey showed that 47 percent of the sales forecasts at successful companies were generated by marketing, as compared to an average 5 percent among other companies. Yet few opportunities exist for today's sales and marketing leaders to come up with a joint definition of success. The Sales & Marketing Leadership Conference will allow both groups to collaborate under one roof and walk away with tons of ideas that will give everyone a chance to advance to best-in-class status."
I also highly recommend you check out the session with Steve Richard of Vorsight. He is an inside sales/appointment setting genius and shares his expertise on stage--sometimes doing live calls to demonstrate his tips.
Register for the event using discount code SPONL2 and save $75 off the current rate.