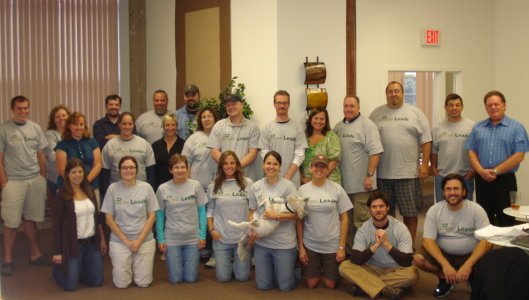 pictured left to right: front row: Lisa, Linda, Cheryl, Amie, Stacey (holding Louie), Kathy, Josh, John T. second row: Kerry, Sarah, Gill, Mira, Bill, Gareth, Anna Marie, Mike S., Mike D. (me), Lenny, Levi. third row: Sam, Dawnia, Coleman, John V., Chris. missing: Janelle, Tim, Ursula, Olivier, Vanessa, Ian and Joe.
Some of the folks you see above have been appointment setting for over 10 years. You would think that they've got it down pat, but there is always room for improvement, or even just a refresh.
Today we had a get together for the team members local to Andover, and went over the basics -- everything from how to save a reschedule to improving opening lines. It's been a great day so far.
At the moment, we have a tag team competition going on with 14 active ConnectAndSell sessions going at one time. Individual and Team prizes for connects (list quality) and meetings booked. The Flatlander team is just two meetings ahead of the Great White North. Should go down to the wire.
ps. The use of ConnectAndSell for the contest is basically saving us the production that we would have lost had we done training without it. So our contest actually has an ulterior motive.