As many of you would expect, Green Leads consumes prospect lists at a rate that far exceeds most outbound marketing efforts. With over 30 clients running their appointment setting programs through us, having volumes of accurate contact names is essential to our business. As a result, we've got licenses with Jigsaw, OneSource and NetProspex, and we use LinkedIn and other contact discovery services. We love them all and use them all in parallel.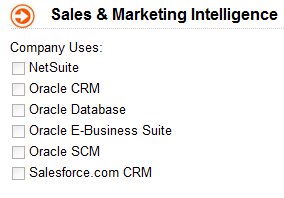 NetProspex recently shined when we heard about the new addition to their service. Users can search on meta-data of specific attributes at companies such as what software system their organization is using, for instance Salesforce.com, NetSuite or Oracle.
This is such a HUGE addition to the world of data services. I asked NetProspex what the future is for additional attribute data like this.
"We've always been a big proponent of metadata. NetProspex has the most job title meta-data in the industry so that instead of only being able to target broad categories like 'Marketing,' you can get really granular and target specific job categories like 'Advertising' or 'Product Management.' We are also investing heavily in social media and our future plans have it front and center. We launched SocialStep -- the first social media prospecting and appending service earlier this year. The interest level -- from customers, the media and even the general public -- has been greater than for any product we've ever launched," shared Mark Feldman, COO of NetProspex.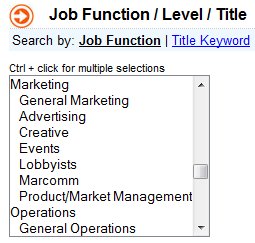 General NetProspex highlights:
User-contributed data
In-house data verification ensures high accuracy
Customizable list-building tools where users can manage multiple projects and list variations
Job title search that is based on more than department and keywords -- there are 100+ functions to help you zero in on the specific function you are looking for. See the breakdown to the right just for Marketing contacts. This is much more granular than the competition.
Pricing is similar to the other services. You can trade contacts for credit, or purchase credits, and there are corporate licenses available.
Smashmouth Rating: Thumbs Up!
What features, tips and best practices can you share?