Since I was spouting all about LinkedIn at Chris Brogan's New Marketing Experience last month, he has recently been on a LinkedIn crusade to find all the tips and tricks burried inside. Although I love taking a little credit, his recent articles have been full of LinkedIn Goodness.

Use LinkedIn Effectively
Your Network News
Keep LinkedIn Clean

With all the momentum, I thought I would share another LinkedIn tip, use Google to search the public profiles. If contacts aren't in your network, they will still show up!

Google using the site:linkedin.com parameter. For instance, looking for Mike Damphousse,
google: mike damphousse site:linkedin.com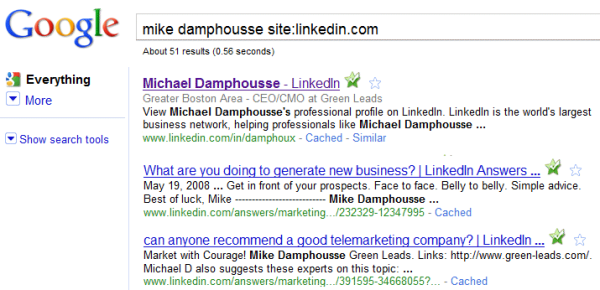 Not only will it find my profile, but it will find answers I have provided and comments in groups.

Let's try another one. Looking for companies in the field of Demand Gen that work with Appointment Setting?
google: demand generation appointment setting company site:linkedin.com

Trying to find a lead at a company that has a specific title, try something similar to this example where I'm trying to find someone at the director or VP level responsible for network security at company.
google: "network security" (dir OR vp OR vice) companyname site:linkedin.com
You think you can find some quality leads through LinkedIn now?