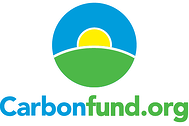 Someone asked me recently where the Green in Green Leads came from?
It originally was a name that sounded great for a demand gen company, and "green" had lots of connotations: Money, greenfield opportunities and of course living green, which my wife Linda and I believe in and do our best to do our part.
Last week's blog post sparked another discussion at a client meeting. Lead Gen Tip for Q2: Face Time and an article from last year, C Level Prospects: Make Your First Appointment by Phone, can be summarized with two bullet points:
Introductory sales appointments are effective if done by phone, and executive level prospects are more willing to do first meetings by phone
Second meetings are more effective if done face-to-face
The conversation went from business to environmental impact when someone offered, "Besides, phone meetings are better for the environment, too."
Green Leads has been buying carbon offsets over the past year as a way to reduce our own carbon footprint. We calculate this number based on the number of employees we have as well as the square footage of our offices. We have also kept our footprint about 50% less than companies similar to ours by implementing our Virtual Hybrid Office Space concept (reduced space, commutes and other waste).
We're in the business of B2B appointment setting, and meetings can often mean travel -- travel impacts carbon footprint, be it by car or plane. Green Leads has decided to let our clients help with our green initiatives by using a portion of our meeting revenue to purchase carbon offsets:
| | | |
| --- | --- | --- |
| | Phone Meetings : | 0.002 tons CO2 |
| | Face to Face by Car : | 0.08 tons CO2 |
| | Face to Face by Flight : | 0.29 tons CO2 |
| | | |
| | Green Leads (Employees & Space) : | 142 tons CO2 |
It is estimated that Green Leads and our clients will purchase estimated carbon offsets to cover between 500-600 tons of CO2 footprint in 2010. Green Leads will be making these carbon offset purchases through CarbonFund.org and will post a chart on our blog to track the impact we've made over time.
So take those first introductory appointments by phone. If we reduce face-to-face meetings by 50%, we can reduce our impact by 175-225 tons of CO2. Let's put the Green back in Green Leads.