Whenever I get a new lead from a prospective company, I always check its web site to see if it looks like a good fit. A good deal of the time I'm unimpressed with what I see. The home pages are cluttered, not structured for a quick read, and no actions are suggested.
Isn't a home page the ultimate landing page? Granted, you don't want the home page hiding all the navigation and consisting of a form, but take landing page best practices and use what makes sense. Make the goal of your own Home Page "Landing Page" to convert the single-page visit to a multiple-page visit.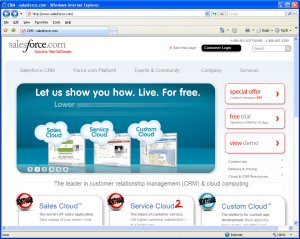 We all put a great deal of effort into landing pages. Studies show how people read a web page and what triggers response. Last week at the MarketingSherpa summit in Boston, for example, we heard that "people read a landing page like the letter "F:" Top scan, down the main body, scan right, take action (if triggered).
Here are two great examples. The first is Salesforce, which I've always criticized because of the big, animated ad in the middle, but then I changed my mind. The ad gives you a quick message -- six messages in fact. Then it's surrounded by calls to action and the flow leads you to a next step.
But the animation is not SEO-friendly, you ask? No it isn't, but does Salesforce need its home page SEO optimized? Most likely they rank OK as it is.
The second is Hubspot, the inbound marketing gurus. The home page reads just like a landing page with call to actions and a next-step arrow to learn more (upper right).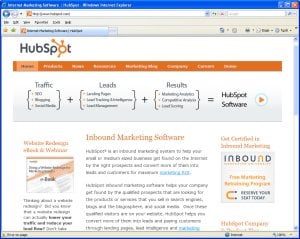 Both are easy on the eyes. The design is clean and uncluttered, with a clear call to action on the righthand side.
Home Page as the Ultimate Landing Page considerations:
keep it above the fold (little to no scrolling)
keep it clean, uncluttered -- whitespace is good
the headlines should make the statements, not the text
the text should be simple and not get in the way of the next steps
calls to action should be clear, mostly to the right
the goal of the page is to convert a single-page visit to a multiple-page visit
Is your home page designed to convert? What about Green Leads new Home Page? Comments?