This week is MarketingSherpa's 6th Annual B2B Marketing

Summit 2009 in San Francisco, to be repeated two weeks later in Boston. Both events are loaded with speakers and content, and I'm sure there will be tons of marketing goodness to share. I'll be at the Boston summit on Oct. 5 and 6, so if you are there, please introduce yourself. If not, you can follow the live tweets here.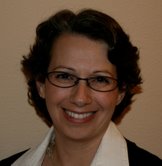 As for other shows, Smashmouth Marketing enjoys delivering thought leader interviews with the speakers. Our first is with Emily Salus of CollabNet, a company that sells application lifecycle management software for distributed development teams. Emily is responsible for managing lead processing, lead scoring, nurture programs, and reporting metrics. She acts as the marketing operations liaison with the CollabNet sales team worldwide and contributes to messaging and content.

Mike: Emily, you're speaking at MarketingSherpa on the topic of Lead Scoring. Although there are lots of vendors out there that do automated lead scoring, what can you share with the folks that can't afford the enterprise-level solutions? What are some simple ways to do Lead Scoring?

Emily: If you don't have Lead Scoring but you've got a sales qualification team, you can implement a lot of the same ideas. First, regardless of what you're doing, you should make sure that Sales and Marketing agree on what a Sales Ready Lead is. If everyone agrees on this definition, you'll work together a lot better because you'll all be trying to get the same thing. Second, if you have a customer profile and certain activities you want them to do, your Sales qualification (or telemarketing or inside sales, depending on your organization) can still grade your leads based on profile (title, geography, industry, etc.) and activity before the leads ever go to a Sales Rep. You might have a matrix of high, medium, and low match-to-profile and high, medium, and low match-to-activity, so if someone's the right profile and the right activity level, your salespeople know they are hot leads.

Mike: As you know, Green Leads is in the business of outbound marketing. We find that our appointment setting results are far better in quality and quantity if we are doing lead scoring and lead nurturing. That said, should we be ignoring low lead scores or should we be working them at a different level?

Emily: Definitely, you need to nurture, regardless of score. If someone's at a low score now, maybe your solution isn't in their sights now. But in six months, it might be they have a new project or new role and if you're still in their minds, they could suddenly become your next opportunity. Imagine what would happen if you just let them go and your competitor didn't, and a short time later they needed a solution like yours. Do you want to be one of the companies they consider or not?

Mike: Some people believe a lead isn't a prospect until they score at a certain level. How do you measure prospects that have yet to be touched? In a pure outbound campaign we may just know their name, title, and company demographics?

Emily: As I mentioned earlier, there are both demographic and activity aspects to each lead's score. So if you have a list of leads with the perfect profile, they should be scored based on that. Then, if they respond to your emails and other offerings, they'll be scored for that. Together, those scores should give them high enough total scores to qualify to go to sales. Again, it's all about defining the Sales Ready Lead in cooperation with Sales. If you agree on a profile and you agree on the activities that a lead should participate in to qualify, then this combination should meet your "send to Sales" points threshold.

Mike: For people who won't be there to see your presentation, what will the top takeaways be?

Emily: Do what you have to do to make sure that Marketing and Sales are a single team with the same goals.

When you're going to implement lead scoring, make sure you test your proposed scoring values before you implement. You only get one chance to make a first impression with Sales when you implement.

Make sure you know how you're going to quantify and measure the value that Lead Scoring brings. Down the road this is going to be how you justify keeping the Lead Scoring service, your improvements of numbers and quality of leads sent to sales and the programs you implement to create demand. If you can show how an extra $10K investment in Q2 is going to mean the company exceeds its closed/won target in Q4 by an additional $50K, you've justified your budget and your position.

Mike: Last question, the B2B Marketing Thought Leaders Curry Poll -- do you like Red, Green or Yellow curry?

Emily: None of the above (allergies). Make mine a tandoori!