A while back, I read an article by Chris Brogan that discussed 19 chores we could each do daily to help us maintain an online presence. I was already doing a majority of the list, but then it got me thinking. What if I had my browser setup so when I wake up in the AM all my daily tasks for maintaining my social media prowess were just lined up waiting for me to get my coffee? Here's my Lead Generation Tip for today.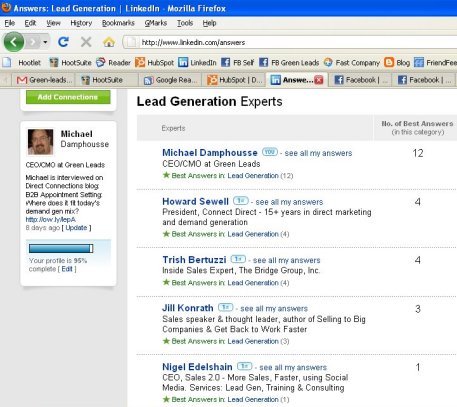 I've never been one to clutter up toolbars in a browser, but this seemed like a great reason to do it. So I bookmarked the following links and turned on the bookmarks toolbar. This allows me to wake up, sip my Greenest Bean coffee (organic, locally roasted), and make my presence known. I come back to it during the day when I need a break and hit them again.
HootSuite - been using this since I uninstalled tweetdeck for locking up my system every day. I've got it all decked out with columns, tabs, subjects, friends, you name it
Google Reader - still the easiest RSS reader going. Read up, schedule the best for tweets on HootSuite with Send Later. Comment on a few relevant articles
Hubspot Dashboard - finds daily chores for me to do around blogging, keywords, search rankings, etc.
LinkedIn Q&A - to maintain my top Lead Gen Expert status and to accept invites and other LinkedIn goodness
Personal Facebook - post some drivel
Company Facebook Fan Page - post some value
Fast Company Blog - share an article
Smashmouth Marketing Blog - write an article
FriendFeed - check out friends thoughts
SocialOomph - vet my new twitter followers
During the process, I usually digg or stumble a few articles as well.

ps. Look at the other top experts in the Lead Generation section of LinkedIn. I'm in good company!

What other daily tasks do you do to keep yourself in the frontlines? Leave a comment
Mike Damphousse
Mike brings a hard-nosed, pragmatic aspect to category design, baked in from two decades as a company founder, CEO, CMO and sales executive. He understands how companies work and how to take a category plan from concept to implementation.