We've all seen it, more than web publishers would like. That dreaded 404 Page not found error. A couple months ago, someone wrote to me regarding my company site saying they got an external link back to my site and received a 404 error because the linker mistakenly referenced the URL. It happens. Then one day I stumbled on Smashing Magazine's article that showed creative 404 pages. I hadn't even known that using the 404 error to go to a specific page was possible. But now that I did, I was determined to use it to my advantage, and I recommend you do the same with your site.
We created a simple 4 panel video with some Green Leads messaging about appointment setting. It's sweet, short, and conveys what we want to convey in 15 seconds. Now that's a good use of someone's typo mistake.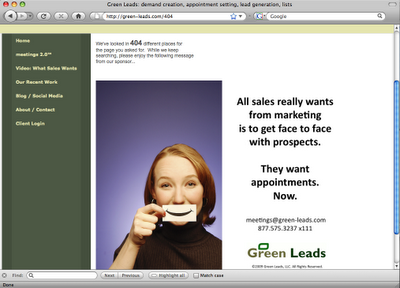 To see it work, you can type any url address at www.green-leads.com that may not exist, like http://www.green-leads.com/missingpage.html or yourname.html, whatever. The missing page will redirect your browser to our video. Try it. Type in anything you want after the ".com/" and it will work.
You can learn how to create your own custom 404 page here.