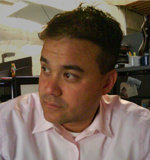 I was with Craig Rosenberg in SFO a couple weeks ago and were having a hot discussion on the economy, marketing, and Thai food. Craig is the author of the blog The Funnelholic and is an expert on b2b lead generation so I decided it would be great to do an impromptu rapid-fire interview with him on his thoughts regarding b2b lead gen and publish it here:
Mike: How should marketers adjust to the downturn?
Craig: I wrote a post that I continue to stand by: 3 Changes You Must Make: re-message to reflect the changing buyer, retarget to find prospects who are likely to buy, and redefine their lead definition. Not adapting will mean failure.
Mike: It's easy to talk about the doom and gloom with the economic downturn, but where is their opportunity for 2009?
In my post When the Blood Flows, I wrote that marketers should view the downturn as opportunity and try to aggressively gain market share. For instance, NetSuite deciding to get MORE aggressive now and try to take on Salesforce.com. When everyone else cuts back, play offense! Marketing must have a compelling offer. Then you need to go out, generate leads, and SELL.
Mike: Being that you are ab online marketer, what is your opinion of outbound appointment setting?
Craig: Truthfully, you should do both: Push and Pull. You should have a presence online to generate "hand-raisers," but you should leverage a target market and get your sales team face to face regardless of whether they raise their hand or not. The lure of outbound appointment setting is you can move quickly -- no hiring, pay for performance. You can point them at the target and fire.
Mike: Thanks, Craig...green, red or yellow curry?
Craig: Green, of course.