I got a bit carried away recently with my niece and nephews' Wii Bowling game. Even when I thought I had done my best and had enough, I would take a breather and come back and SWING! I would put up better numbers. It was addicting.
I wanted to beat my best score, and
I wanted to beat their best scores
It was all so gratifying, and it was all about the numbers!
Outbound sales, lead generation and demand gen in general are all about the numbers, too: forecasting good numbers, hitting those numbers and then pushing those numbers to new levels. We're all compelled to come back to the Wii console multiple times in order to improve our all-time best, and we are also compelled to come back and beat our peer's best scores. It's addictive. It's energizing. Heck ... it's just plain fun.
We should all apply this same energy, interest and compelling drive to our jobs.
One thing our jobs have that the Wii doesn't is that our consistent performance and high scores get compensated with better revenue, pipeline and paychecks. What the Wii has that we might need in our jobs is great graphics, stats and instant reward. Do you know your lead generation stats by the week? day? hour? Do you have dashboards that track your lead generation and pipeline activity? Learn from the Wii and even if you just need to track your high scores on a piece of paper, track them, know them and always be trying to put up a better score.
And just like the Wii records the stats and records that let you know how you are progressing and are relevant, make sure that the things you measure are the right ones. Measuring the wrong stats can incent bad behaviors!
I venture to say that there may be thousands of fast-talking, smart teens out there in their basements with Wii high scores who might some day make fantastic inside sales professionals and fill our appointment setting jobs.
Contest
Lastly, the Wii session inspired a contest at Green Leads this month. We decided to have our appointment setting teams compete to win some electronic goodness, and beat each other's scores. Being that we are a company that focuses on Quality and Quantity, the contest assigned 2 points for every meeting completed and accepted by our clients, and 1 point for every meeting set. The winning team was The Flatlanders with a 20% lead over the rest.
Flatlander Winners (picking gifts in a yankee swap fashion): Levi, JT, Anna Marie, Gareth, Chris, Lisa, Gill and Sarah (with the highest score). Congrats to all! Check out the booty below. Missing is the xBox Kinect, which just got released last night at midnight. It's on the way.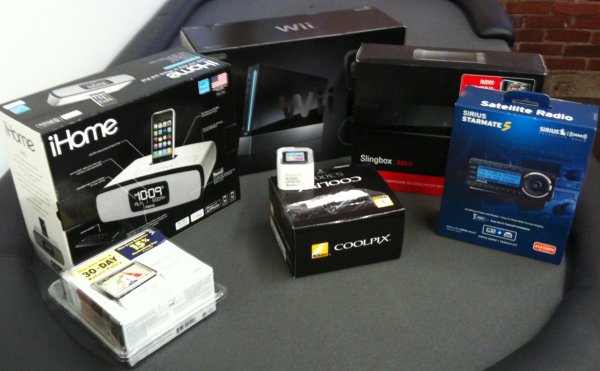 Clockwise from top: Wii, Slingbox, Sirius Radio, Nikon Camera, iPod, iHome, missing (xBox and remote Car Starter) ...and yes, that is a poker table the gifts are on. Green Leads has fun too.