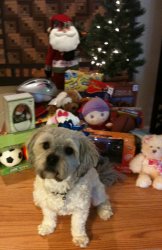 B2B Marketing Experts have an ideal opportunity during the Holiday Season to do some old fashioned "feel good" marketing and help some folks along the way. Green Leads ran two internal contests that resulted in charitable giving.
Toy drive. We ran a contest last week during a one hour ConnectAndSell session. For each appointment booked during the session, Green Leads bought a toy for our local toy drive run by some friends at the Lawrence Police Department.

Kiva Microloans. A second contest we ran allowed our top performer to pick a recipient of a Kiva Microloan to join the Green Leads portfolio. We've been lending on Kiva for quite some time and allow our team to select the recipients on an ongoing basis. This now makes 15 loans.
Fun. And don't forget to have a little fun. The Green Leads management team pulled together this cute B2B Mashup Holiday Greeting video on our youtube channel.
It's all about:
Branding (internally and externally
Doing what's right
Having some fun
Happy Holidays!