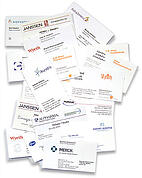 How many business cards do you have laying around in one of the current states?
1. On your desktop in a pile
2. Wrapped in a rubber band
3. In a ziplock bag
4. Distributed in the inside pockets of four blazers
5. In the bottom of your computer bag
If you answer is more than 10 cards, then you have leads laying around that are going untapped.
Green Leads has just introduced a new complementary service where the sales reps we support from our appointment setting clients can have up to 100 business cards a month entered into a spreadsheet for free. All they have to do is send them to us. A week later, they get a spreadsheet with all the data -- perfect for importing into Outlook, Salesforce.com or other CRM systems.
The process:
Send business cards to Green Leads, wait a week
Leads are returned in spreadsheet format
Leads can be imported into Outlook, LinkedIn, Salesforce or other CRM or Marketing Automation systems
Business cards are returned or recycled
To celebrate all the networking, business card exchanges and great relationship building that will happen at Dreamforce this week, Green Leads is offering a limited version of the service to non-clients for FREE. Send us up to 100 of your Dreamforce business cards and we'll send them back to you in a spreadsheet.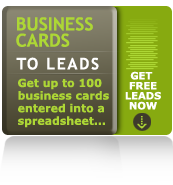 The only catch ... you subscribe to our B2B Blog: Smashmouth Sales & Marketing.
Get instructions now >> 100 business card leads.