SDRs On-Demand
Hiring, scaling and on-boarding BDR/SDRs is a never-ending challenge. Not to mention the ongoing performance management and long term, retention.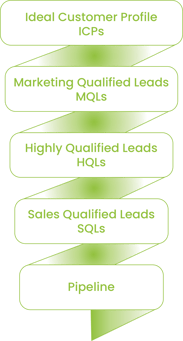 You've received new funding and the lead VC/Board Member insists on scaling pipeline generating activity.

The VP of Sales just hired five sales execs she brought from her previous company and they all need appointments.

SaaStr was a successful event and you're sitting on hundreds of viable leads but only an internal team that can handle 25% of them.
The reasons are endless – the challenge is adjusting the throttle of your sales and marketing operations and sales development engine. Your options are to hire or outsource, or add technologies and create playbooks that will increase your existing team's efficiencies. Yet budget for full-time new hires is always harder to get than project based approvals for project based point-solutions. And your history with outsourcing always comes down to "what did you do for me today?" There is rarely a well defined SLA.
And efficiencies, they can take months or years to understand and implement working solutions.
At Green Leads, we've done the evaluations, we've built the playbooks, and we deliver accountable SLAs that generate pipeline in a manner that is fast to deploy and sustainable over time.
Augment your growth challenges with Green Leads' various solutions.