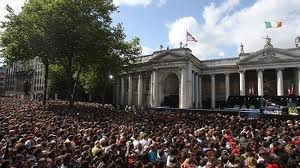 As part of Green Lead's recent acquisition of Target 250, a portion of our European team is based in Ireland. Linda and I are here this week working with the team on transition issues, and while heading out for dinner last night we walked by the Bank of Ireland in the center of Dublin, where President Barack Obama's gave a speech just a few weeks ago.
When it comes to sales and marketing tips, the President is loaded with examples. Here are but a few:
Brand

- Obama has a solid understanding of Branding. Every word, action and event is organized with a consistent brand of quality and authority. Stay on target with all your brand messaging.

Opportunity

- I'm not sure who planned their trip first, but the combination of the Monarchy and the US Presidency visiting within weeks of each other was a one-two punch for both. The buzz from our colleagues in Ireland is one of progress, respect and excitement from the two visits. Take advantage of opportunistic moments as it pertains to marketing.

Disruption

- Be it the President shutting down the Dublin airport and delaying my Irish team from flying to Andover, or you making a disruptive sales or marketing statement, consider your messaging and consider the impact of authority and disruption to the norm. The market reacts to this and it allows you to stand apart from the crowd.
Dress to Sell - If you are not sure of the casual nature of a sales or marketing event, you'll never go wrong in an Obama class suit and tie. I was recently at the SiriusDecisions Summit in Scottsdale and although the crowd was predominantly in business casual attire, suits and ties for men and suits for women were not uncommon--especially for the sales types. If you opt for a blazer, just make sure you have the best looking shirt/blazer combination in the room. Keep the golf shirts on the golf course. Even the ones with logos on them.
...and a snapshot for the photo album. Linda and I in front of the Bank of Ireland in downtown Dublin, right where Obama spoke.