A few weeks ago I was digging around one of my favorite sales and marketing tools, LinkedIn (my LinkedIn Lead Gen Tips), and noticed the Company Stats area. It shows statistics on things such as Job Function, Years Experience, Growth, etc. and compares company stats to those of their peers in the industry.
Looking at the charts for Green Leads, the issue of "Years Experience" stood out to me because Linda and I have been discussing the topic during our recent hiring efforts. When we first started out, we hired people with 10+ years of experience, and in fact if you look at the chart below, we are way over the industry average. However, now that we've grown our philosophy may have shifted a wee bit. Let me explain...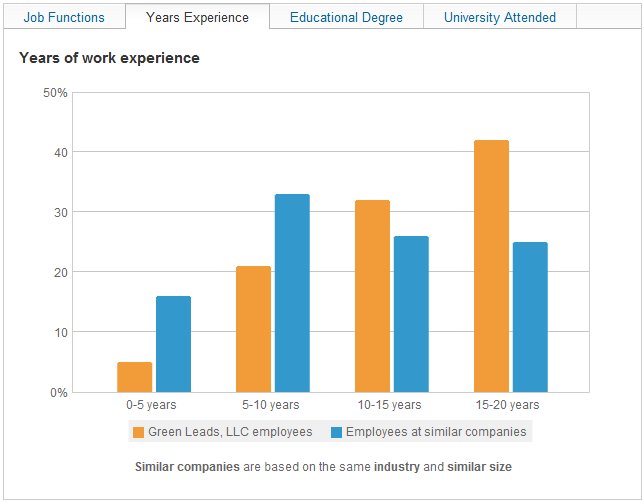 Trish Bertuzzi, the inside sales guru, uses a term for new hires with less experience. She calls them "junior woodchucks." She shared her philosophy with us, and when we compared our own experience hiring a couple of woodchucks recently we thought she was spot on. on.
Trish's woodchuck words of wisdom:
"Hire a mix of talent -- veterans to lead, set standards and coach. Then hire some newbies that stand out from the crowd. If done right, you'll find some diamonds in the rough.
"Be cautious though, only hire newbies if you have a solid hiring model and onboarding process. If not, it will be chaos."
So, how much quota could a woodchuck chuck if a woodchuck could chuck quota?