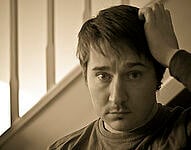 Sometimes I think George Lucas just didn't "get it" when he made the Star Wars prequels. You know, the "other" Star Wars movies? He had made the greatest trilogy in the world in
Star Wars
,
The Empire Strikes Back
, and
Return of the Jedi
. For years, with fans clamoring for more movies, Lucas said that either he wasn't ready to make them or the technology in cinematography just wasn't ready. Then stars aligned and he was ready to make the rest of his story; three movies to be set before Episode IV (1977), to tell the story of how things led up to where they did. To fans of the original trilogy, Lucas fell woefully short with Episodes I-III. He didn't get that what made the original movies was story, not special effects. Sure, the newer movies had better effects, but the end result was miserable.
If you've spent any amount of time on Twitter, specifically in the B2B Sales and Marketing arena, you're sure to see some people on there that deliver fantastic information. This is information that I'm very thankful for, as are my colleagues in the industry. However, with all of the good, there are still some on Twitter who just don't "get it." I'd like to share with you some ideas on how you can "get it" and keep yourself from becoming a Demand Gen Twit:
Remember, it's not always about you -- If there's one thing that burns me up about Twitter, it's the people who are shameless self-promoters. SHAMELESS. Twitter is a great self-promotion tool, however, it's an even better word-of-mouth tool. It's one thing to tweet about something you've done or your most recent blog entry, but it's another if someone else does it for you. What does that mean for you? It means you've got to be writing great content. Keep in mind what Chris Brogan says: "[promote] the heck out of others"


Start the conversation -- One of the best parts about Twitter is the ability to have long-running conversations with a bunch of people. That's a great way to share new ideas (and get some, too) while keeping in mind my first point. Get involved and get people talking. A number of people do this well; and for a great example, check out Mack Collier's blog chat (#blogchat) that occurs most Sunday nights.


Learn -- If there's one thing that I love about Twitter, it's that for the most part the folks that "get it" share a wealth of new information -- new information that is relevant to you because others finding and sharing it have similar interests to you. The opportunity to have great content and data at my fingertips, throughout any part of my day, is exciting for me. The more you read, the more you'll be able to share, and the more you share, the more you'll keep yourself from becoming another Twit.
There are a lot of ways to be a better B2B tweeter, and these ideas are for me as much as they are for you (maybe even more so). So, help me keep the conversation going, and share with the rest us some other ways we can keep from being a Twit.
Photo Credit: PhotoJonny via Flickr