We all know that accelerating a prospect through the educational/discovery phase onward to a selling cycle and then a buying event takes time. Especially today when the buyer defines the sales cycle, not the seller. The typical decision maker is bombarded with marketing contacts each day, yet they are still finding information on their own, they are educating themselves on industry sites, blogs, twitter and your website and emails.
Genius.com helps you take back some of that control that the buyers are claiming. As with other product reviews on Smashmouth, this will be an ongoing experiment. Today I'll describe what Genius brings you, and in later posts, I'll talk about some of the benefits and issues it has surfaced.
There are two levels of product, Genius Pro and Genius Enterprise. Both have the ability to do email marketing, website tracking, instant web visitor notification, visitor session replay, and have salesforce.com integration. Enterprise adds marketing automation features such as lead scoring and automated lead conversion as well as advanced process design using the workflow design tool.
Here's a working scenario of using Genius Pro that I was able to test on my own using just a trial account:
- Load a list of prospect email addresses and send an email (this can be done as individual users, or marketing can send on behalf of sales teams)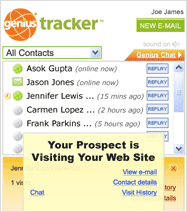 - Launch the Tracker (which is a web-based client like Yahoo Instant Messenger but instead of showing your buddies you see your prospects), and see visitors show up live after they have clicked through the email
- Replay the visitor's session in a Tivo like fashion
- Respond to prospect activity and interest with additional or next-step level emails (or phone call)
- Review integrated activities in salesforce
Remember, prospects want to sell themselves nowadays, but it's our job as marketers and sales people to accelerate that process or educate them along the way. Combined with other tools such as LeadLander, LivePerson and Salesforce, the average sales exec can be armed to the teeth with the tools to track, nurture and accelerate the close of prospects.
The next level of the product, Genius Enterprise, gets into serious marketing automation, but with the same usability and non-IT methodology of Genius Pro. As mentioned I'll provide a high level overview here, but blog review part 2 will be coming after I get a chance to experience more of Genius Enterprise.
- Use the workflow designer to map out an automated rules-based marketing campaign
- Define steps in the lead nurturing process
- Define Conversion Events that removes a prospect from the work flow and instantly alerts team member for follow up
- React to a visitor's activity in a complex and immediate manner
- Monitor activity within Salesforce
Let me give you an example of a typical use in simple terms: if a visitor who received a trade show followup email, they visit page X and they are not already on nurturing path A or B; you can use Genius Enterprise to automatically nurture them with an email later that day referring them to a study on page Y, increase their lead score, convert them to an active lead and notify the sales exec, etc.
Does it work? My real world evaluation is still under way, but one of the inside sales reps at Genius nurtured me during each of my visits prior to my evaluation (with follow up emails, etc.) and then once I did a 15 page session, my phone rang and there he was. I'd say that's proof positive the system works. I'll give you my thoughts and experience using Genius Enterprise in Part 2 of the Product Review of the post.
Smashmouth recommendation: Thumbs Up
End of independent review.
During my evaluation, I had a chance to speak with Matt West, Director of Marketing Programs at Genius. I asked him what separates Pro and Enterprise as a reason a company would just purchase Pro versus the full marketing automation product.
Genius Quote:
"Many companies are just getting started using email marketing in conjunction with their selling efforts, so they may want to move forward a step at a time, and getting started with an email marketing service that also provides website visit tracking (and shares those results with the sales team) is an easy way for organizations new to email marketing to see real results very quickly. We started out that way ourselves and found that sending emails on behalf of the sales team increased our open rates (because the emails were from a real person) and then let sales see how prospects responded. As we grew and gained experience with what worked and what didn't in terms of messaging and website content, we began running enough campaigns that we wanted to automated them, and that's where Genius Enterprise comes in. It's a natural progression, especially for smaller companies."
More detailed review of Genius Enterprise and some real world results in Part 2